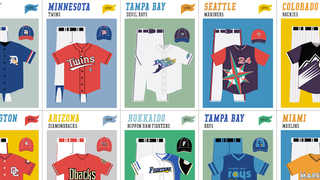 Pop Chart Lab has put together a new print titled "The Charted Connections of Rock," which shows how over 700 artists have collaborated on over 500 projects as an enormous web diagram. It's pretty dense, but useful for "six degrees of separation" games for the musically inclined.
With the basketball season winding down, Pop Chart Lab has put together a great new poster showcasing 165 notable jersey designs, from the 1921 New York Celtics through the "Latin Night" alternates of the 2014 Suns. Most of the offerings come from the NBA, but there's a smattering of Globetrotter, ABA, hip-hop, and …
The designers over at Pop Chart Lab have put together a sharp-looking, albeit somewhat arbitrary map of over 200 "distinguished" New York bars, broken down by category (click here for a larger version). If you have a lot of money and plan on living in the city for a couple years, you should check them all out.
Whiskey is delicious and fun to drink, but it's tough to keep track of the diverse offerings and industry nomenclature. Pop Chart Lab has your back: Similar to what they did with beer, they've put together a great graphic on the taxonomy of whiskey. They even managed to nail the geographic details of the extremely…
New from Pop Chart Lab, the Diagrams of Dogs poster classifies 181 dog breeds by types and various sub-types. All your old favorites are on there, plus at least a few you probably haven't heard of before. (Schipperkes! Holy shit, schipperkes.)