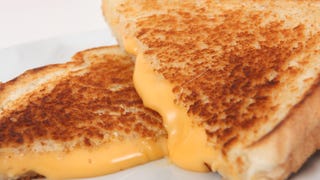 It's a question that has stalked man through the generations: How many slices of cheese go into a properly made grilled cheese? I am here today to tell you I have solved this riddle once and for all.
Time for your weekly edition of the Deadspin Funbag. Got something on your mind? Email the Funbag. Today, we're covering mugs, Adrian Peterson, safety monsters, and more.
Listen. Alton Brown is a goddamn hero. He's funny and smart and silly and endlessly curious, and he knows five trillion times as much about food as I ever will. He's turned bazillions of people onto cooking, and onto trying ingredients and techniques they otherwise wouldn't, and his commendable willingness to…
The Masters Tournament started yesterday (Go Tiger! ...oh, never mind.), and Bon Appétit's Adam Rapoport is chatting about Masters foods, and dammit, that's a perfectly good excuse to remind you that our pimento cheese karate-chops the shriveled, linen-suit-clad nards off the orange sludge they're serving at Augusta…
Everywhere we are gussying up our grilled-cheese sandwiches. In fancy restaurants and home kitchens and delicatessens and those insufferable quasi-fast-food joints with the accented, ambiguously Euro names and the friggin' Ray LaMontagne music on the PA and the cutesy, bottled alterna-soda in the cooler—everywhere,…
Oh, what, so you think you're too "good" for a fish sandwich? Oh, so fish sandwiches are for "weird leathery shore-people" with "wiry fisherman physiques" and "hairdos from the mid-1970s" and "scars from old knife fights"? Oh, so you "didn't actually say any of that" and I am "having this argument with myself" and…
What are the United States' best regional foodstuffs? Its worst? These are the questions that bedevil the mind of man—but no longer! For here, we have ranked them. Rigorously scientific (not), ardently researched (nope), and scrupulously fair (not even a little bit): this is the Great American Menu!
It's good to live a tidy, orderly life. Clean shirt, clean face, sensibly organized underwear drawer (I subcategorize alphabetically by superhero!), and so on. People like tidiness; they trust it. It makes things easier. Food, too, can be tidy: the neat, clean geometry of sushi; the artful towers of nouvelle cuisine;…
The morning following Thanksgiving is a bleary, cotton-mouthed, dead-eyed time—a time for questions, a time of Reckoning. "Oh, Jesus, how much did I drink yesterday?" and, "Am I going to die?" and, "Why do I keep doing this to myself?" and, "Am I in Fort Worth? How did I come to be in Fort Worth?" These are all very…
The Red Sox announced Bobby Valentine as their new manager yesterday, and that's a hell of a thing. Good for them. But Valentine brings with him many unanswered questions. Can he prevent another collapse? Can he get up to speed on innovations in MLB since 2002? And did he really invent the wrap?