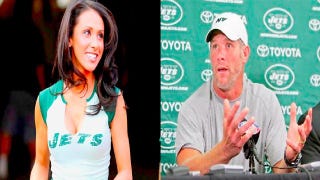 In the video here (parts of which are NSFW due to penis photos at the 2:08 mark), you'll see and hear all the strange messages Jenn Sterger received from someone she was led to believe was Brett Favre. [Final update here.]
Well, let's get it out the way — it didn't take me very long to relapse after leaving sex rehab.
Like our other famed theme weeks which have gone horribly awry, we're attempting to cover some other subject matter that doesn't have anything to do with sports. Or dongs, for that matter. Yes: MUSIC WEEK is upon us.
Yes, it's time for another go at a theme week for this site. Starting Tuesday, we'll be talking about all things bloody in sports, culminating with Pat Jordan driving out to Los Angeles to punch Sarah Silverman.