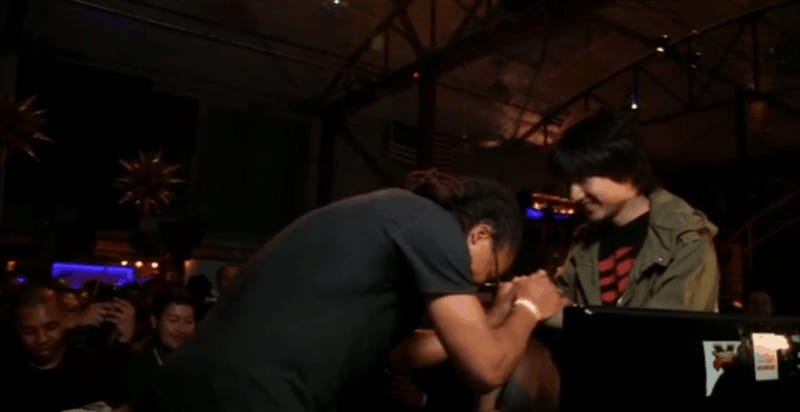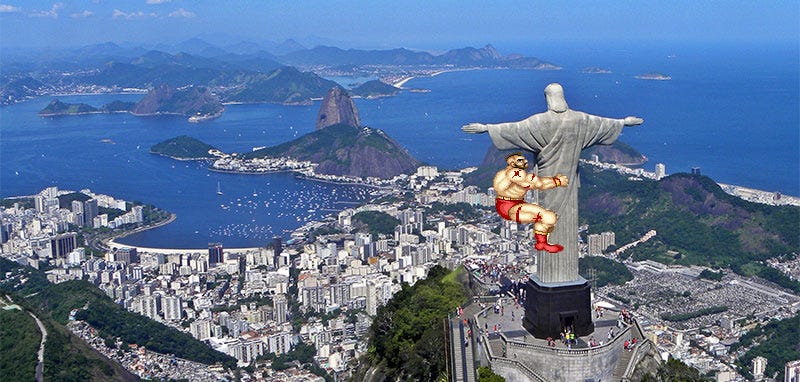 Cristo Redentor, the giant statue of Jesus that towers above the city of Rio de Janeiro, is one of the world's great landmarks. It won't be appearing in Street Fighter V, though, after Capcom decided to swap it out and replace it with...a monstrous replica of what sure looks like the FIFA World Cup trophy.
We probably all know the general story of Moment 37 and the famous Daigo Parry that displayed a serious talent for Street Fighter blocking. But for our second episode of Kotaku Compete, you can get a behind-the-scenes look at the feelings and the people behind the moment, and how it's affected them since.
R. Mika has a few work out tips for you. They're pretty good! They also turn her into an absolute monster.
There are so, so few opportunities to throw a hadouken unironically. "During an MMA fight" is one of the preciously rare moments to channel your inner Ryu and feel like a total badass—as long as you're actually in the fight. Shane Campbell saw such a window during a recent bout with Derek Boyle.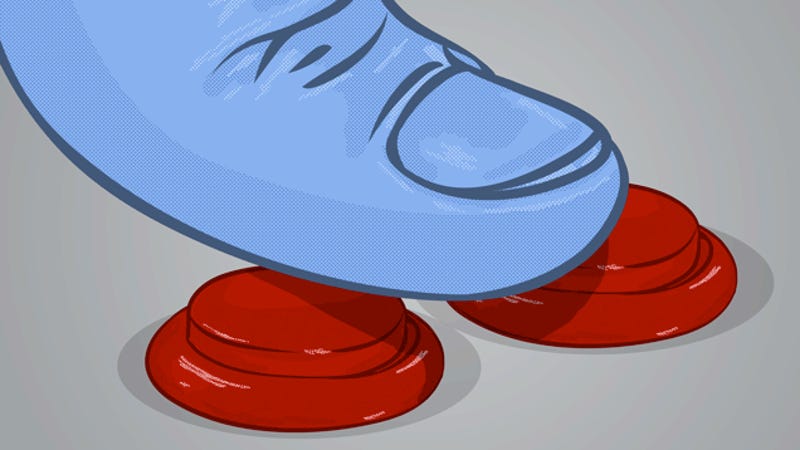 The first time I played Tekken 3, I was hilariously bad. I was used to 2D fighting games, where the buttons corresponded with attack strength, and tapping 'Up' meant 'Jump.' This new, 3D genre, where each button corresponded with an attacking limb and tapping 'Up' meant 'Sidestep' (pressing 'Up' still meant 'Jump'),…
You'll recall last week, when Washington Wizards center Marcin Gortat unveiled his hard-ass new mohawk 'do and transformed instantaneously from an affable Euro dude into a terrifying Death-Slav from hell. Well, it appears that Street Fighter-based coiffures are becoming A Thing on the Wizards: Check out Gortat's…
We're coming up on Evo, the biggest fighting game tournament in America. It will run Friday to Sunday from Las Vegas and be streamed online for the world to see. It'll be the biggest Evo yet. But maybe you aren't prepared—there are eight completely different games at this one event, after all, and what makes them…
Montréal and Dallas hooked up on Jan. 2 and at 4:56 in the second period, the Habs' winger Travis Moen decided he'd had enough of counterpart Antoine Roussel's shit. Hockeyfights.com Metacritic'd this spectacle at 84, with Moen clearly winning the fight. Our ears perked up because ... wait ... is that Guile's theme?