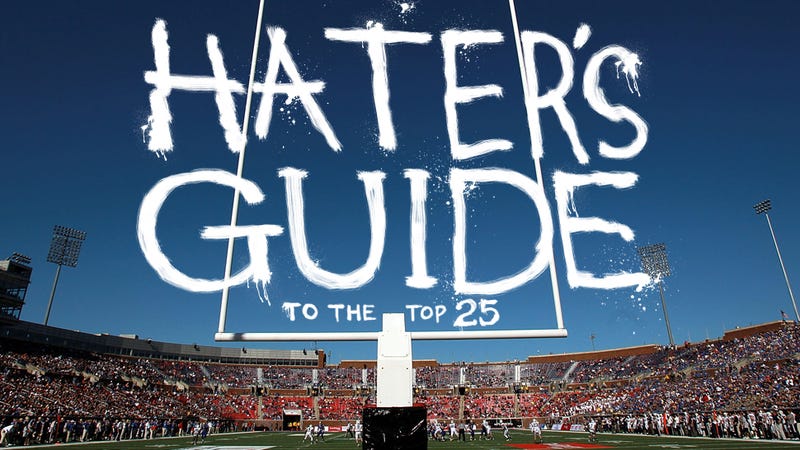 This is it, everyone. This is the last year of college football shooting itself in the foot with a shitty, underwhelming BCS national title game. Come next season, the sport will institute a playoff, and with that, a whole new era of college football shall begin. With better games! And even crazier fans! And more embarrassing losses by Notre Dame! And even more obscene amounts of TV cash that will only used to pad coaching salaries and build shiny new practice facilities that have glory holes in every study carrel! It'll be a giant leap forward in the crass commercial exploitation of emotionally vulnerable athletes. I couldn't be more excited.
But that also means we've come to the end of college football's provincial era. Old school college football fans will tell you that the appeal of the sport lies in its antiquated, irrational way of doing things: weird rivalry trophies, coaches voting for the best team, everyone turning a blind eye to boosters in cowboy hats paying Johnny Football six g's under the table, Steve Spurrier walking around shirtless, etc. The massive influx of television money has wiped out the charming, old-school corruption of CFB and replaced it with a more modern, soulless, corporate suit-wearing kind of corruption. And that makes me sad.
Kind of.
Not really. Everyone in this sport is a fucking scumbag.
Anyway, to commemorate the end of the BCS era, this year's Hater's Guide to the Top 25 will take you on a tour of the single most hateable thing about each of the schools/teams/states ranked herein. Because at such an exciting point in the sport's history it helps to remind you that, even as we segue into the playoff era of college football, it is HATE and BLIND IGNORANCE that will always be the common thread, the one part of the sport that shall remain forever unchanged. Also, fuck Ohio State. As always, we use the AP poll, because the coaches poll is worthless:
1. Alabama. Nick Saban. Of course it's Nick Saban. Even in a state with such a rich history of ignorance, racism, and general stupidity, Nick Saban can stand out as the most vile element. Just this week, a GQ article came out in which Saban openly bitched that the national title game hurt his recruiting. Not only is Saban the most insane of insane coaches, but he has crossed the rubicon and become an impossible parody of an insane, humorless coach. ALL THESE DAMN CHAMPIONSHIPS HAVE MADE MAH PLAYERS SOFT! I WISH I'D NEVER WON 'EM! He's awful. And the worst part is that other coaches strive to emulate him. Like college basketball's little army of mini-Pitinos, there are more than enough Saban clones out there with perfect hair, micro-regimented schedules, and near-Soviet levels of hatred for human mirth.
By the way, do you folks at 'Bama realize how lucky you people are that Saban said yes to you? The four previous Crimson Tide head coaches were Mike Shula, Mike Price, Dennis Franchione (who ditched the team for the dumpster fire that is College Station), and Mike DuBose (banged his secretary). You people should build Saban TWO statues for rescuing you from that decade. If Saban stays with the Dolphins, Alabama is 6-6 for the rest of eternity. So enjoy your title run, Bama fans. The day Saban dies of a heart attack, it's back to hiring DuBose dongalikes for you.
2. Ohio State. Oh hey, turns out your pious asshole of a head coach not only has landmines planted in his brain, but he's likely 50 times dirtier than the pious asshole he replaced. From the high school to the college level, the state of Ohio is terminally incapable of operating a scholastic football program that isn't run by liars, false prophets, scumbags, or rape apologists. Any time someone tells me he's from Ohio and involved in football in some way, I double lock my car and put a cork in my asshole.
3. Oregon. That fucking training complex. Are you kidding me? Did they build it in the shape of a middle finger? I'm not gonna lie: I wanna live there. I'm insanely jealous that I don't have an ID badge and commemorative duck there with my name on it. If I played for Oregon, I would never wanna graduate. I'd fail and fail and fail, because after graduating, I gotta get an apartment 1/132nd that joint's size. Suicide rates among former players will increase tenfold. I'm sure their bones will be used to glaze the facility's marble whirlpools.