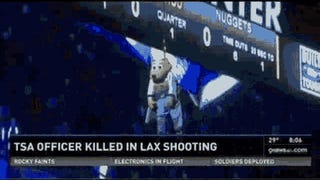 The Denver Nuggets have lost 10 of their last 11 games; last night, they trailed the putrid 76ers by as many as 28 points before cobbling together enough dignity to make the final score look competitive. They're 19-30 at the moment, 11th in the stacked West, and 8.5 games out of the final playoff spot, and that might seem almost respectable on the surface, as though they're scuffling at the moment, but still hangin' in there. Nah. The Nuggets are a goddamn catastrophe.
Coach Brian Shaw thinks his players are losing games on purpose. What's more hilarious and ridiculous than a coach so busted and lost that he'll actually say, aloud, that he thinks his players are sabotaging him is that Shaw might not even be wrong. Venture a gander at last night's highlight reel, and tell me if you see a team of guys particularly invested in winning basketball games.
I like the part with all the standing and the watching.
Shaw's been an odd and bad fit for this weirdly-constructed team from the time he was hired in June 2013, to replace the fired George Karl. One of his first ideas was to have his fast, deep, young, athletic team slow down and reorder itself around the low post—specifically, around the back-to-the-basket game of JaVale McGee, a skill-free, asthmatic, seven-foot goober who can't stay healthy and manifestly has no idea how to play basketball. Mind you, this was a team that had won a franchise-record 57 games (and a Coach of the Year award for Karl), with the NBA's third-youngest roster playing the precise opposite of slow, grinding, low-post-oriented basketball the very season before Shaw took over.
It never made sense, and if Shaw's largely abandoned his let's-pretend-it's-1992 scheme (the Nuggets currently play at the fifth-fastest pace in the NBA, according to stats.nba.com), that's only served to illustrate that it was the only idea he had. The Nuggets play incoherent, disjointed basketball, often looking very much like a group of guys who don't trust that if they pass the ball, they'll ever see it again. Kenneth Faried—the glaringly un-special power forward whose oversized contract Denver's front office memorably botched—pounds the air out of the ball every time he touches it, despite a limited game best suited to fifth-option catch-and-dunk gruntwork. Wilson Chandler chucks like his goddamn arms are springloaded. Ty Lawson—the team's best player and, when healthy and engaged, a scary-quick photon of a guard who can scarcely be followed by the eye, much less guarded—wanders through games with the glazed eyes and blank expression of a downtrodden fry cook catching shit from the manager for taking an overlong smoke break. (He's still putting up 16 and 10 with a respectable .526 TS%—Ty Lawson is really good!)