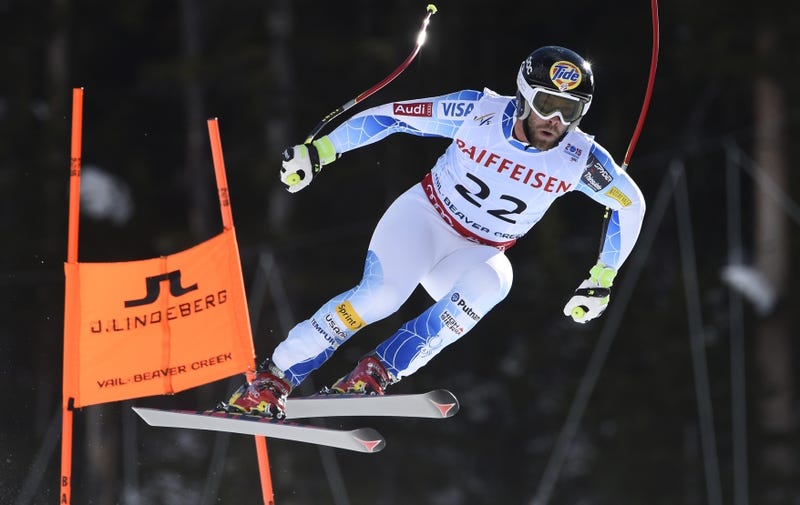 Shortly after his run, just before mounting the most important podium of his career—and the first World Championships downhill podium for the U.S. since 2005—Travis Ganong was already thinking of powder. In particular, the two feet of powder that had hit the slopes at home in Lake Tahoe the night before. "I've dreamed of being here, and I'm here, and I love to ski," Ganong said, before linking that thought to one he seemed every bit as excited about: "And I get to go ski powder in a day and a half when I go home!"
Few racers love every aspect of skiing as purely or as visibly as Ganong, a guy immediately distinguishable from his competitors by the bright-yellow Tide sticker on his helmet (or, off skis, baseball cap). Many top racers have been in gates since they were small children; for them, the joy of skiing was always in a racecourse, not out in the trees or moguls or jumps. And even for those who did grow up playing out of gates, at a certain point in your career, it's all too easy to get razor-focused on what is, after all, your job. To ignore the powder days, because every day spent free skiing in the loose stuff is a day spent not training. To avoid jumps, because a fall could crush a burgeoning career. To zero in on the medals, the results, the sponsorships, because that's what a career and an income pivots on, not to mention what everyone else is focusing on, too. In other words, to see skiing as the career and the sacrifice that, at the top level, it certainly is—and, perhaps, to forget why a racer put those skis on in the first place.
But Ganong, the 26-year-old Squaw Valley native, isn't punching a clock just yet.
"When are you serious?" the moderator asked him at his press conference. "Never!" Ganong said, only half-joking. "Why? Life's so fun. Life is, hopefully, like a never-ending powder run. Or a perfect downhill, like today."
Because that's the secret to Ganong's approach: when he's having as much fun on an icy, 34-degree pitch as he does in Tahoe powder, he's probably winning.
For a casual observer of ski racing, Ganong came out of nowhere. His silver today is the biggest win of his career. But those with a closer eye on the sport have seen him coming for a while. After several seasons of spotty results—up through the 2013 season, his World Cup results found the top 10 only twice, and contained a healthy number of DNFs, which can be caused by either a crash or missing a turn—last season, he started to pull it together. In his last eight World Cup races of the season, he placed top 10 in every one, save for two DNF's.
And then there was Sochi, when he finished fifth in the downhill. It wasn't quite speedy enough to get him a medal, or much recognition from anyone but the most avid fans, but it was definitely a signal to the other top athletes: Ganong was starting to put it together.
He really showed that for the first time this season, grabbing his first-ever downhill gold at Santa Caterina, Italy, in December.
When I called him a couple of weeks later, he answered his phone from his exercise bike, where he was getting his blood pumping after a training run for the world-(in)famous Kitzbühel downhill. "I haven't really changed anything," he said, panting slightly. "It's just the culmination of many years of working hard in the summer, getting stronger, staying healthy, and just gaining more experience on these tracks." He added, as if you could forget his California roots, "It's a good groove."