At first glance, the Hahnenkamm doesn't seem too gnarly. A mountain near the ski resort town of Kitzbühel, Austria, the peak isn't the highest in the Alps. Or the biggest. Or the steepest. And it has a funny name that translates to "Rooster's Comb," which sounds like a spot where the Trapp Family might picnic. But mention "Hahnenkamm" to Olympic downhill racers—daredevil athletes accustomed to doing 80 miles per hour on narrow, sharp sticks—and they start to shake in their custom-fit ski boots.
Why? Because, up close, the Hahnenkamm is home to the world's most notorious, dangerous, blood-curdling downhill racecourse. [jump] Called the "Streif" (or the "Stripe"), it's a wicked, twisting, insane snake of a run, one filled with blind drops, 260-foot jumps, and 85-percent grade steeps. The Streif sneers at those who make even the tiniest mistake. Too much weight on one foot? Game over. Skis pointed two degrees in the wrong direction? Dunzo. Lean back on your Rossignols for a split-second? Totaler Reinfall, mein Herr. Your run will come to a very quick and painful end. So might your season, or worse. [jump]
Skiing the Hahnenkamm is a harrowing experience from start to finish. But three spots on the course regularly devour victims, often in a catastrophic fashion. Do not attempt what you see below. Ever.
The Mausefalle
The carnage starts just five seconds out of the gate, on a part of the course called the Mausefalle or the "Mousetrap." There's nothing mousy, however, about this blind 260-foot jump. Skiers can't see the other side until they're high in the air, too late to do much correction. Instead, at 70 mph, they must pick a mountain peak in the distance, and head for it as they come into the jump. Otherwise, they might splatter against a tree.
G/O Media may get a commission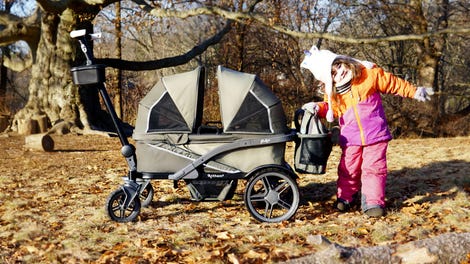 30% off
The Anthem All-Terrain Stroller Wagon Adventure Bundle
Go everywhere with your kids
This must-have bundle nets you either of Gladly's award-winning Anthem2 or Anthem4 All-Terrain Stroller Wagons as well as must-have accessories like a parent cupholder, a removable storage basket, extra-large canopies, a nap system, quilted comfort seats, a cooler bag with a padded shoulder strap, and a travel bag.
Even the biggest and best get hurt by the mousetrap. Last year, Hans Grugger, an Austrian racer who's won two World Cup gold medals in the downhill, bit it here during his training run. That's him in the above video. Grugger doesn't land the jump in the wrong spot. It's worse than that. After shooting off the Mausefalle, his body twists mid-air. He hits the ground with a sickening thud and skids, limbs splayed, before his prone body comes to a stop. His injuries were so massive he remained in an induced coma for two weeks and underwent brain surgery. Nine months later, he announced he'd be back on skis, but he hasn't yet returned to the international race circuit.
If the Hahnenkamm can rag doll a tough guy like Grugger—who pushed his body through a series of injuries, including torn knee ligaments (four times between 1998 and 2009) and a dislocated hip in 2005—it can ruin anyone. Downhill is the event in alpine racing with the craziest speeds, biggest jumps, and nastiest turns. The competitors are some of the strongest athletes in the world, pound-for-pound. On a normal course, the average racer can expect to pull some 3.5 G's, more than astronauts have to deal with during a launch. That means they feel 3.5 times heavier than they really are while making explosive turns and trying to remain as aerodynamic as possible.
The Hahnenkamm could care less. No downhill course lets you relax. But this one bludgeons you the whole way. If you clear the Mausefalle, which means flying 200 feet through the air in just the right position—aggressive, forward—and landing with a cartilage-rattling crunch, you've got maybe two seconds before you hit some savage carousel turns and have to confront the next part of the course that wants to kill you.
The Steilhang
No name games here: Steilhang translates, ominously, to "steep rock slope." It's a super-steep switchback, filled with teeth-chattering bumps, and it's narrow, so your line—or the exact path you're taking down the course—is crucial. That's made especially hard because this is a fall-away turn. Meaning: The natural "fall line" of the slope (where a rock would go if it were tumbling downhill) is going counter to where you want to go—in this case, off the course and into the net. So you have to fight against the gravity of the hill. Just to make things more fun, the course narrows right at the bottom of the turn. If your line isn't 100 percent accurate, you'll be picking netting out of your teeth.
In 1989, Brian Stemmle, a Canadian ranked seventh in the world in downhill at the time, was gunning it on the Steilhang when he drifted ever-so-slightly off the correct line. You can literally pause the above video at the instant that, in ski racing, represents the difference between a podium finish and, in Stemmle's case, horrifying injury. As the Canadian veers toward the netting, he throws his hands into the air, trying to do something, anything, to stop the onrushing devastation. Skis meet net. They take off ahead of the rest of his body and throw him back, head over heels, somersaulting helplessly.
It didn't just look bad. It was bad. The crash has been dubbed "the wishbone," and it ripped open Stemmle's pelvis "like a book." His spleen ruptured. He was in a coma for five days. He suffered excruciating infections from wounds on his face. Doctors gave him a 50-50 chance of surviving, and the only thing more extraordinary than the fact that Stemmle did survive is that, after three months in the hospital and 18 more in rehab, he came back to race on the international level for another decade, including one more spin on Hahnenkamm in 1994.
But the Steilhang isn't the end of the ordeal. To make it to the bottom, you need to be carving your skis, riding your edges, and getting ready for anything that comes up. Like the ruts that tend to form on the course. (Think of driving a car across potholes at 90 mph). Mother Nature usually chips in with some fog and flat lighting, making it even tougher to see what's coming. This past race, the competitors had to deal with falling snow, which is nice when it's falling in your backyard and nasty when it's flying in your goggles.
And you have to be planning. You have to be thinking. You have to be on, especially on the unforgiving Streif. Even in the last 20 seconds, danger lurks, as you take another blind jump into another fall-away turn. The finish line, thankfully, is about to come into focus. But you're not done, mein Herr.
The Zielschuss
Right at the end, right when a skier might begin to feel safe, there is a final, cruel jump, taken at about 85-90 mph with some 200 feet in the air. It's called the Zielschuss or "Goal Shot," and it is where many racers succumb. Here's the very disturbing video of American Scott Macartney, who was clocked at 87 mph going into the Zielschuss in 2008. Almost as soon as Macartney launches into the air, he knows something is wrong. His weight is shifted too far to the right. His left arm pedals the air, frantically, as if it could helicopter him to a safe landing. When he slams into the snow on his back, his right ski pops off like a snapped twig. He skids; the other ski hurtles into the fencing, where spectators watch, aghast. And he slides, prone and unconscious, across the finish line. The video keeps rolling as his body starts convulsing.
Since Macartney didn't miss a gate, he technically finished the race—in 33rd place. More importantly, he recovered fully. By the next season, he was back on the World Cup circuit, racing downhill again. He even took on the Hahnenkamm downhill in 2010. All guts, that Macartney. But sights like a man twitching at the bottom of the slope can psych out even the most fearless athletes. Last year, Canadian racer Jan Hudec opted out of the Hahnenkamm.
"I was seriously scared just inspecting" the course, Hudec tells me.
It didn't help that he'd broken his hand in a recent race. Or that he'd been standing 30 feet away from his friend Grugger when the Austrian crashed. But this year Hudec went for it. He came in 10th—a pretty sweet finish, considering it was his first Hahnenkamm downhill race. His first thought, as he flew out of the start gate, had nothing to do with strategy or form or his line. It was: "Oh my God, I'm skiing Kitzbühel. This is crazy."
Yes, Hudec. It is crazy. If you're skiing the Hahnenkamm, you're nuts. But that's the kind of attitude you need to excel on this course. And by excel? We mean survive.
A former ski racer who never made it close to the Hahnenkamm level, New England native Amanda Ruggeri now lives in Italy, where she freelances for publications including The New York Times, The Guardian, and The Atlantic.
Top image by Jim Cooke.