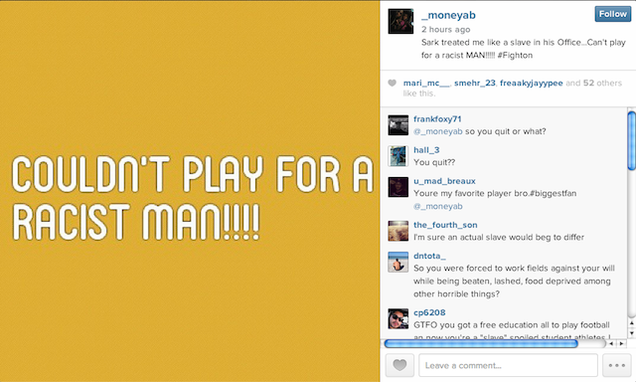 Things aren't going so great at USC these days, buddy, but thanks for asking!
Along with whatever the hell is going on with Josh Shaw, USC head coach Steve Sarkisian now has to deal with one of his former players accusing him of being racist. Anthony Brown was a redshirt senior on the Trojans football team, but he quit today, a decision that may have had something to do with him being switched from defensive back to running back. After he quit, he posted the message you see above to his Instagram page.
Sarkisian was even asked about this at a press conference today:
Sark said was "shocked" that Anthony Brown accused him of being a racist. He wanted Brown on the team and felt he could help.

— Ryan Abraham (@insidetroy) August 28, 2014
Brown may not have been good enough to hold onto his preferred position, but at least he knows how to go out in a blaze of glory.