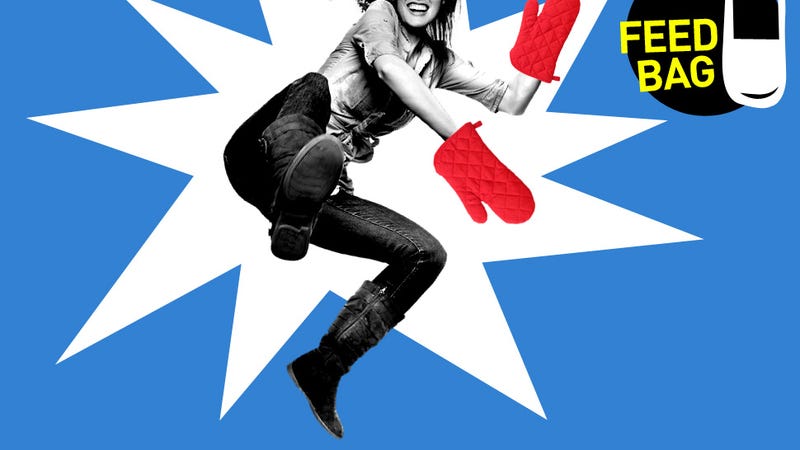 Welcome to the Feedbag, where all the dumb questions about food, drink, cooking, eating, and accidental finger removal you've been embarrassed to ask can finally receive the berating they goddamn deserve. Also: answers. Send all your even-vaguely-food-related questions to albertburneko@gmail.com with the subject "Feedbag." All of them.
Richard:
I was on a 3rd date last week with this girl that told me she was "pretty damn good in the kitchen" when we first met.
You: "Hi, my name is—"
Her: "I AM PRETTY DAMN GOOD IN THE KITCHEN."
She recently invited me over for dinner at her house and I was excited. I picked up a bottle of good wine and made my way over. When I got to her house she told me she was in the kitchen finishing up the dinner. I go in to the kitchen and she made spaghetti with meat sauce and used Ragu. What the hell? I mean it was a decent meal but far from being "pretty damn good in the kitchen." Do I say something? Do I tell her that a 9 year old can make this meal? Granted its the only meal I have had with her but I am starting to doubt her abilities.
Oh ho ho, but maybe she meant to say that she is damn good at something else in the kitchen, eh? Eh? Something ... naughty? Do you know what I mean, Richard? (I am referring to jump-kicks.)
(What, like you never do jump-kicks in the kitchen. I don't have to explain myself to you, "officer." If that is your real name.)
I like to imagine the conversations you two are having. How did her kitchen abilities become a subject for discussion "when [you] first met"? Maybe you're both residents of the same dementia ward, and she just goes around yelling about how damn good she is in the kitchen all the time. Maybe you "first met" when you were interviewing her for a job as a cook on your crabbing vessel. Maybe you failed to ask yourself some critical questions about dating the sort of person who goes around telling total strangers she's damn good in the kitchen, because you were distracted by her glistening aluminum hat. What did you talk about next, once you'd established that she's damn good in the kitchen?
You: "Oh, well, that's nice. As I was saying, my name is—"
Her: "DON'T NOBODY THROW A MEANER SLURVE 'N' WHAT I THROW."
I gotta tell you, Rich: I kinda like this gal. She's got gumption, is what she's got.
Look. She talked herself up. People do that. They shouldn't, but they do. Maybe what she meant is that she's confident in the kitchen; that she knows her way around, that she feels like she can throw together a tasty meal when called upon to do so, that all the other adults in her family have hooks and pegs for limbs because they clumsily sheared off with kitchen knives all the extremities they didn't accidentally purée in whirring blenders, and that this is how she calibrates her scale for good-in-the-kitchen-ness.
Did the food taste good? OK. Then I think you can let it slide. Hell, you can even console yourself with the idea that she was telling the truth, insofar as being good in the kitchen means being able to produce, in the kitchen, food that is enjoyable to eat and does not cause your gastrointestinal tract to leap screaming from your body and drown itself in the toilet. Is she friggin' Julia Child? No, I guess not.
(And, holy hell, thank Christ for that, buddy. Julia Child is probably a skeleton by now.)
My suggestion is that, for your fourth date, the two of you traipse merrily down the aisles of your local supermarket or gourmet grocer and pick out some exciting, unfamiliar-but-not-horrifying ingredients, and cook something fancy together. For one thing, this will reinforce her notion of herself as being good in the kitchen, which is just a kinda cool and generous thing to do; for another, the food will be marvelous, and that will mitigate the awkwardness of listening to her tell you about the time she punched the top off of a volcano.
Jesse:
A friend of mine has a birthday coming up. She likes to cook but doesn't have every single kitchen doodad known to man, so I'm thinking of getting her something she can really use. I know what I like, but I want to strike a balance between useful but weird (salad spinner) and gifty but useless (mandoline). What's a good, under-$50 gift that someone's not likely to have, but likely to like?
This is a tricky one, Jesse, if you're thinking of the challenge in terms of finding something she'll actually use: there's a surprisingly narrow list of kitchen doodad-type things that are truly, effortlessly useful, and by your description, your friend likely already possesses all of them. My suggestion would be to go for something a tad more gifty and a tad less useful, but which will be unobtrusive and, whenever she does use it, will make her think fondly of you. It's not the most original gift idea ever, but she'll like it and it will get her drunk, which is all that matters anymore, or at least that is what I tell myself.
Here's what you do. Go out and get a modestly priced, but reasonably attractive-looking, wine vacuum pump with a matching set of reusable rubber stoppers. These are often packaged as gift sets, and you should be able to come in south of $30, here. To go with these, buy the nicest bottle (or magnum) of wine that A) you can afford, and B) you've personally tasted and enjoyed. Stick this crap in a gift bag with some stupid tissue paper and a card. When she opens it (if you happen to be present for the gift-opening), say something along the lines of, "You guys should totally try that wine with [insert foodstuff that is not being served at the birthday festivities]," which will be a gentle clue that she and her husband are meant to enjoy this wine together, in private, rather than that you only brought this wine stuff to her birthday party so that you could drink some of it.
Here's what will happen: Later that night, or another night soon after, she and her husband will crack open that bottle of wine and drink it and enjoy it, and think of what a thoughtful gift it was—and then, every time they use the pump and stoppers afterward, they'll be reminded of their awesome friend Jesse who gave them a fun night of drinking tasty wine together. It's a great gift. They'll love it.
Robin:
Ok... Just for the record, I, also, am not a squirrel. My daughter is moving off to college. She will be living on campus in a little apartment sort of thing, but it doesn't have a stove and they are not allowed to have electric skillets and the like. They will have a microwave and a crockpot. Possibly a George Foreman type thing but not sure on that yet. A blender fridge and freezer. Most crockpot recipes require some browning or "pre-cooking." What are some things they can make?