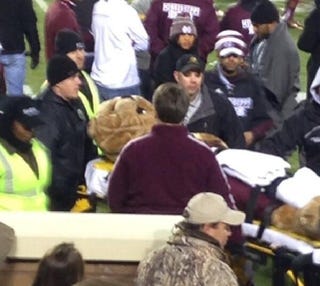 Mississippi State mascot Bully was hit by an ESPN golf cart during yesterday's Ole Miss-Mississippi State game, injuring the leg of the person inside. The photo you see is Bully, still fully costumed, wearing an air cast and being taken away in a stretcher.
The student inside Bully had surgery for a compound fracture Thursday night, according to SB Nation.
OK, this is not funny. This should not be funny. I should not be thinking about how Bully's frozen, anguished face accurately reflects the injury sustained by the person inside of it. This isn't—dammit, why is it funny?
On a serious note, may the person inside Bully experience a quick, easy recovery from injury. But let's look at the big question: Why is it amusing when a mascot gets hurt? Maybe I'm the only sociopath, but mascots that experience non-serious injuries are humorous. Let's be clear that I'm not wishing for more mascots to get hurt for my amusement, but sometimes, it happens. It's a workplace accident.
For example, remember Rocky, the Denver Nuggets mascot from the beginning of this month, who was unconscious while getting lowered in a harness to the court in front of scores of fans? Once I found out Rocky was all right, I could not stop watching the GIF. I started playing this song from The Dark Knight Rises behind it because it matched so well. And the cheerleaders! The cheerleaders dancing around as his oversized shoes met the floor and the people around him slowly realized that something wasn't right with Rocky.