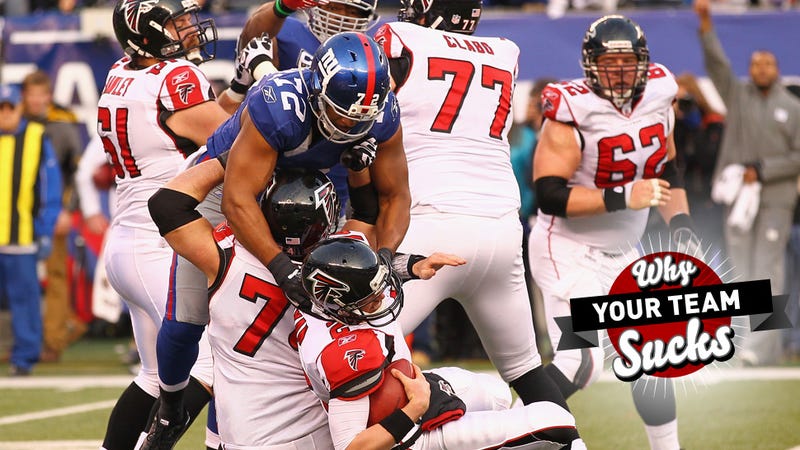 Some people are fans of the Atlanta Falcons. But many, many more people are NOT fans of the Atlanta Falcons. This 2013 Deadspin NFL team preview is for those in the latter group. Read all the 2013 NFL previews so far right here.
Your team: Atlanta Falcons
Your 2012 record: 13-3. No one makes a 13-3 record look thoroughly underwhelming quite like the Falcons.
Your coach: Mike Smith, who is a good coach 95% of the time. He can assemble a very good staff. He can nurture a young passer like Matt Ryan and help turn him into a top-tier quarterback. He can concoct defensive schemes that help cover up glaring deficiencies in the secondary. He can bestow upon the Falcons an atmosphere of professionalism and levelheadedness that every NFL team aspires to but few actually achieve. He can do all that, and then PISS IT AWAY in one single, breathtaking moment of frantic idiocy. "Well, we were trying to execute an ill-advised squib kick when we executed an even more ill-advised onside kick instead!" When it matters most, Mike Smith suddenly morphs into Barry Switzer. It's astonishing. He must study game tape of Andy Reid or something.
Your quarterback: Matt Ryan, who just pocketed $59 million in guaranteed money. Hoooooly shit. If I had $59 million in guaranteed money, I would spread it out in cash on my bedroom floor and then masturbate on it.