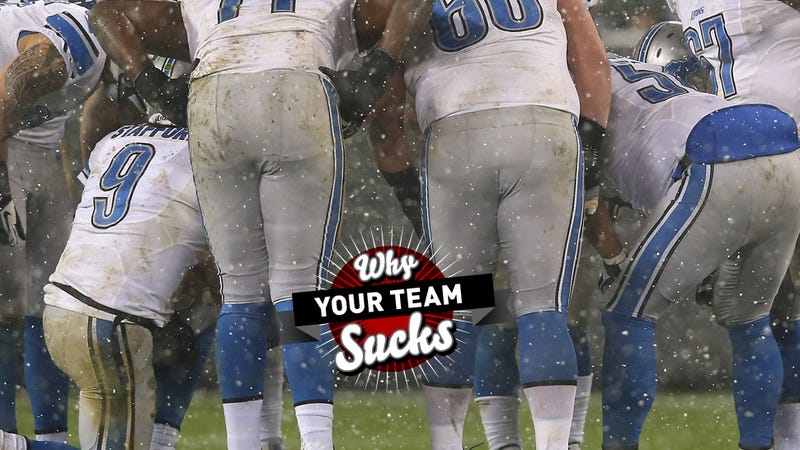 Some people are fans of the Detroit Lions. But many, many more people are NOT fans of the Detroit Lions. This 2013 Deadspin NFL team preview is for those in the latter group. Read all the 2013 NFL previews so far right here.
Your team: Detroit Lions
Your 2012 record: 4-12. And that's no ordinary 4-12 season for the Lions. This was a team that went 10-6 in 2011 before getting torched by the Saints in the playoffs. There was the illusion that this team had actually BUILT something, that they would be able to remain consistently successful, perhaps even, you know, improve. But not only did they go 4-12, they went 4-12 without anything catastrophic happening. Matt Stafford played the whole season. Megatron played the whole season. The core of young talent they assembled remained intact and just SUCKED. Even when the Lions do everything right, they still do nothing right. You could clone the 49ers and their coaching staff, put them in Lions uniforms, and they would still go 4-12. There is some kind of cosmic suck cloud that has enveloped them, that overtakes anything it comes into contact with.
Your coach: Jim Schwartz. If there is an obscure rule out there that can hurt your team, you can rest assured that Jim Schwartz will find a way to be victimized by it. Jim Schwartz has taken a fairly talented roster and added nothing to it. I think his boilerplate pregame speech is, "Guys, go out there and, like, do your thing."
It's as if they studied game tape of all the ways the Raiders lose and put them into practice. The Lions commit 80 penalties a game and NEVER run the ball. You will find more discipline in the Detroit mayor's office than at a Lions home game. What hope do the Lions have when Jim Harbaugh blows right through your coach on your home field?
Oh hey, I should probably have words with that man!
Your quarterback: Matt Stafford. Is he fat? He and Tony Romo are always in the "I think he's fat" QB club. Remember: This man was drafted in the first round of many fantasy drafts last season. Your reward for drafting Stafford was a QB whose TD passes were cut in HALF (41 to 20), who turned the ball over 21 times, and whose passer rating dropped nearly 20 points. Again, that's with nothing disastrous happening. It's not like he played all of last season with a leg amputated or something.
Your one fantasy player everyone will hate: Brandon Pettigrew. You'll see him on waivers and you'll think to yourself, "Gee, he seems kinda talented to be hanging around on waivers." Then you'll grab him and start him and you will understand COMPLETELY why he was on waivers.
Why your team sucks:
Back in 1997, the NFL played the occasional Thursday Night game on TNT (with Mark May on color commentary, which was just terrible as you can imagine it being). Former Oiler Sean Jones was one of the studio guys, and I remember they were talking about the Lions and Jones blurted out, "This team just sucks right now." Jones only worked that one year in the studio, but I totally remember him saying that for some reason. You never hear an analyst say that a team "sucks," which is odd because so many of them do. Anyway, anytime I watch the Lions, I hear Jones in my head. This team just sucks right now. This team just sucks right now. This team just sucks right now. This team just sucks right now. Their suckiness is secondhand nature at this point.
The worst part is that they're sucking in an empty forest. There are still four major sports teams operating out of Detroit, acting as if nothing is wrong, as if they aren't residing in the only non-condemned structures within a 30-mile radius. Honestly, you may as well put an NFL team in fucking Atlantis. There is no Detroit anymore. It's been lost to history, never to return. You don't see Major League Baseball keeping the Fort Wayne Kekiongas around, do you? No. Stop playing sports in an ancient ruin. It's creepy.
Football-wise, this wasn't a particularly good defensive team last season, especially when the refs gave running backs a second chance to get up and carry the ball against them. And now they've lost Cliff Avril, Kyle Vanden Bosch's red contact lenses, three defensive tackles, two corners, and 60 pints of blood. Oh, but Nick Fairley is still here to get injured for 10 weeks, and Ndamukong Suh will glare at the opposing team's offensive linemen until things just feel really uncomfortable.
It gets worse. The Lions lost two starting offensive linemen in the offseason, which means Stafford will be running for his life, so maybe he won't look so deceptively fat after 16 weeks. This is a low-rent version of the Saints offense. They can rack up 5,000 passing yards between the 10-yard lines and then do nothing once they actually have to score. The Lions have NO ONE to throw to outside of Calvin Johnson. Titus Young was released and is presumably still sleeping at the AT&T Store. Pettigrew drops everything. Nate Burleson is 7,000 years old. Oh, but Reggie Bush is here now. He could do the area more good operating a hydraulic steering wheel press.