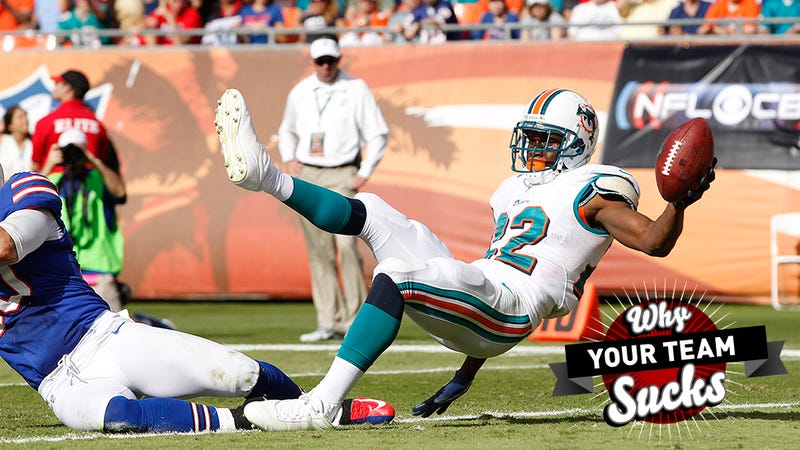 Some people are fans of the Miami Dolphins. But many, many more people are NOT fans of the Miami Dolphins. This 2013 Deadspin NFL team preview is for those in the latter group. Read all the 2013 NFL previews so far right here.
Your team: Miami Dolphins
Your 2012 record: 7-9. Wow, they won seven games? That's actually kind of impressive.
Your coach: Joe Philbin, who looks like a lobbyist for the corn industry. Your offensive coordinator is Mike Sherman. If your passing game is clicking, Mike Sherman will run. If your running game is clicking, Mike Sherman will pass. And if both are clicking, Mike Sherman will elect to punt. Keeps the defense on their toes. I can't imagine how much collective sleep Dolphins players get in meetings whenever Sherman and Philbin take the mic.
Please note that the Dolphins have changed their uniforms this season. They now look like a team from a videogame that forgot to secure licensing rights from NFL Properties. It's South Florida versus Boston in the Big Game, only on Sega Pro Football!
Your quarterback: Ryan Tannehill, who takes over the BRO I'D CRUSH HIS WIFE BRO mantle now that Brodie Croyle is out of football. Andrew Luck and RG3 were both historically great rookie quarterbacks. And then there's Tannehill, the kind of quarterback who gets drafted in the first round because a team needs a quarterback and reaches for one because they're terrified of not finding one in the second or third round. So... YAY.
Tannehill finished last season on a "hot streak," if you count throwing four touchdowns against Buffalo and Jacksonville a hot streak (I do not). He also lost his best running back and his left tackle this offseason. And his new tight end (who kinda sucked) is out for the year. WHAT A BRIGHT FUTURE THIS YOUNG MAN HAS.
Your fantasy player everyone will hate: Mike Wallace. The Dolphins handed Wallace $30 million in guarantees this offseason. That's $30 million for a dude who couldn't even break 1,000 yards last season. He tanked BEFORE he got his contract, DeSean Jackson-style. Not since Albert Haynesworth has the entire world seen a free agent bust coming from so far away. I expect Wallace to order a pizza on the field by Week 4.