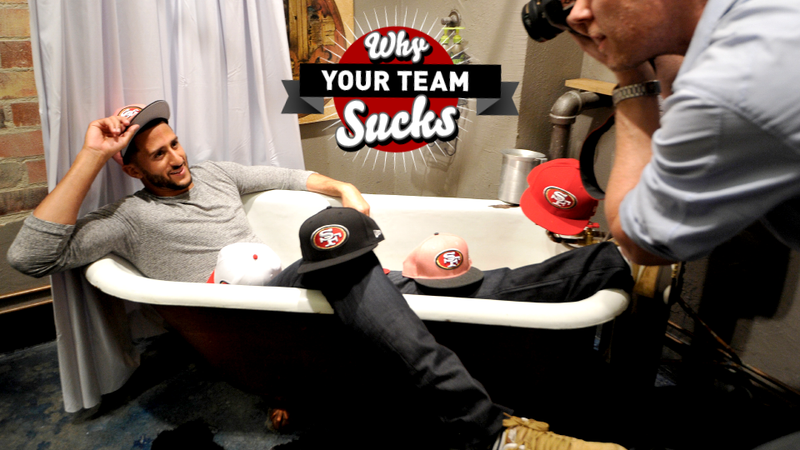 Some people are fans of the San Francisco 49ers. But many, many more people are NOT fans of the San Francisco 49ers. This 2015 Deadspin NFL team preview is for those in the latter group. Read all the previews so far here.
Your team: San Francisco 49ers, 1946-2015, RIP.
Your 2014 record: 8-8. The Niners close out their formal existence as a professional football team with five Super Bowl titles, six NFC titles, and 19 division titles. That's a really nice run you guys had.
Caretaker for your team's grave: Living Woody Guthrie song Jim Tomsula, who has lived out of car (and frankly, probably enjoyed life more that way) and lost his great-grandfather in a coal pulverizer accident. Tomsula will be in charge of cleaning the Niners' headstone, replacing any and all dead flowers, and chasing off vandalizing teens from the team's deluxe cemetery in Santa Clara. Given his background AND his hilarious inability to speak in public, Tomsula will make for a fantastic undertaker. In time, he will grow a proper hunchback. He's certainly not qualified to be the head coach of a professional football team, but that's no longer an issue for the York family. So long as Tomsula turns off the sprinklers and is happy to be paid in canned beans, the job is his eternally.