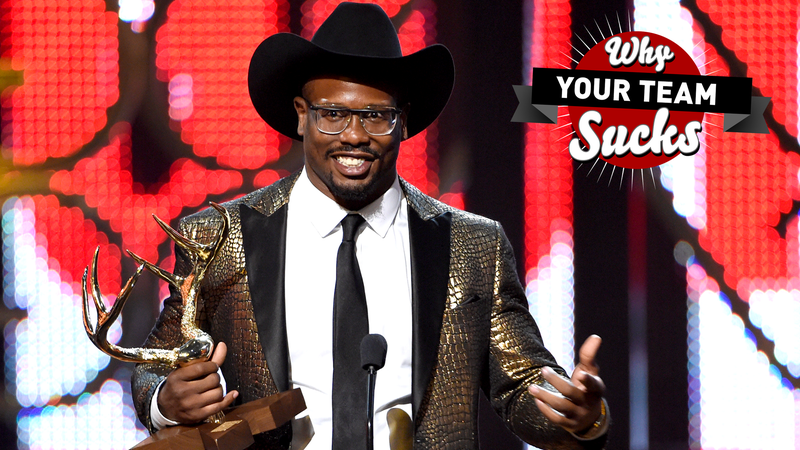 Some people are fans of the Denver Broncos. But many, many more people are NOT fans of the Denver Broncos. This 2016 Deadspin NFL team preview is for those in the latter group. Read all the previews here. And buy Drew's new book here.

Your team: Denver Broncos.
Your 2015 record: 12-4, Super Bowl Champions. History will be kind to this team because the defense was sensational, and because they got Peyton Manning a second ring and sent him into retirement on a cloud of Jim Nantz's cedar-scented farts. But if there's one thing I've learned, it's that HISTORY LIES. This was one of the worst championship teams of my lifetime. Like the 2000 Ravens or the 2002 Bucs, the 2015 Broncos are gonna end up being one of those rare exceptions to the rule that you need great quarterbacking to win a Super Bowl. I need another, better Super Bowl champ to come along this winter to help wash the taste out of my mouth. Or I need to watch this again…
They shouldn't have even awarded the Lombardi Trophy last season. When no team is good enough to seize the ring, they should just vacate the Super Bowl and give the ring to me for safekeeping. That way, I don't have to pretend that it's heartwarming to see Manning and his twelve-head limp his way to the title, after a long career of wiping his ass on trainers' faces and using Seamless to have HGH delivered to his doorstep. And I won't have to watch him ruin what ought to be a touching and genuine sports moment with subliminal mentions of shitty beer and even shittier pizza.
Your coach: Gary Kubiak. Again, we're gonna get farther away from last season and everyone is gonna be like, "THAT guy won a title?" It'll be just like Mike McCarthy's title: inexplicable, unjustified, and somewhat irritating. Kubiak still can't manage the clock. He sits on leads like a mother hen. It's painful to watch this man coach. Gary Kubiak is the Ditka to Wade Phillips's Buddy Ryan. His hair looks like it was drawn by an animator cooking up a new enemy for Voltron.
Your quarterback: Quarterback? What quarterback? You don't have a quarterback. All I see on this roster are old sandwich crusts and pickle jar lids. Hard to believe there's a step down from Manning posting a 9:17 TD-to-INT ratio in 2015, but the Broncos have managed to find it. MANY steps down, in fact!
John Elway puffed his horsey cheeks and chased Brock Osweiler out of town when the young QB dared to ask for a few extra million and a guaranteed starting job. We're thisssss close to Elway saying the words "The Bronco Way" out loud during a press conference, and then everything will be awful.
As a result of Osweiler's departure, there's nothing here. Your current starter is future trivia question answer Trevor Siemian. Behind him is rookie quarterback and terrible omen for the future of American baby names Paxton Lynch (STOP NAMING CHILDREN AFTER ACTION MOVIE CHARACTERS THAT EXIST ONLY IN YOUR IMAGINATION). And then there was Mark Sanchez. Keep in mind that the Broncos actually traded for Buttfumble, only to immediately regret it, as one does. Sanchez is now in Dallas. Wait until he discovers the steakhouse titty bars there. Whole new world for him.