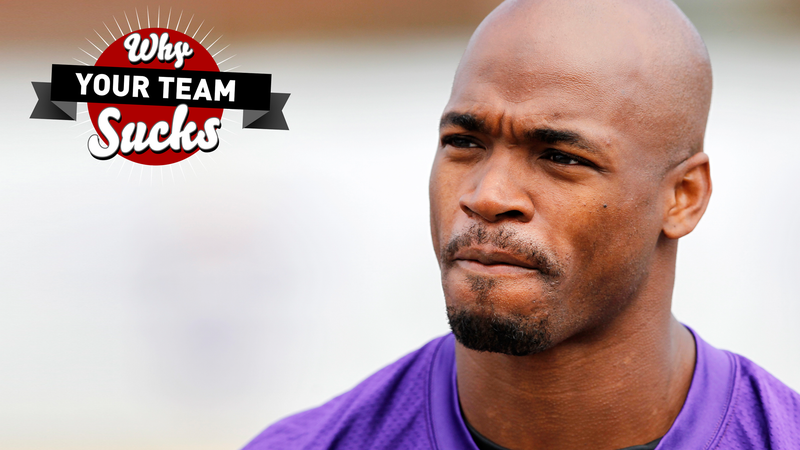 Some people are fans of the Minnesota Vikings. But many, many more people are NOT fans of the Minnesota Vikings. This 2016 Deadspin NFL team preview is for those in the latter group. Read all the previews so far here. And buy Drew's new book here.

Your team: Blair missed the kick.
Your 2015 record: I don't even remember because Blair missed the kick. Here…
I don't… Ugh, just… Look man, shit like this only happens when God wants to fuck you.
This is the part where I disclose to you that I am a Vikings fan. That means no matter what I say on this website about any other team, or any other fans, or any other city, you can go right ahead and throw this goddamn kick right back in my face and I will be unable to respond. I am a deer in headlights when confronted with the absolute and total failure of my own stupid, asshole team. God fucking dammit. TWENTY-SEVEN YARDS, BLAIR. I don't care if it was cold enough to kill a Tauntaun. From 27 yards the corpse of Denny Green could have made that kick. My alcoholism is on you.
Your coach: Mike Zimmer, whom I love and whom is easily the best coach in team history since Bud Grant. But it took no time at all for phony-ass Minnesotans to take Zimmer and use him to buff up their own bullshit self-image. Oooh, he's so plain-spoken, just like Bud! He's our kind of guy! Look at this load of garbage:
Mike Zimmer is becoming our guy. Which is a rare thing… He is clearly not "one of us" by birth or accent. He nevertheless has a chance to become one of the most beloved coaches in Minnesota history, where no matter what we say we want we really prefer older and crustier, blunter and bluer… Zimmer has performed a neat trick by not performing any tricks.
See, this is why Minnesotans deserve to watch shanked 27-yard field goals for the rest of eternity. They are a group of passive-aggressive psychopaths who have somehow deluded themselves into believing they're plain, honest folk. There are Bridgehampton socialites more willing to speak their mind than these silently fuming lutefisk eaters. It's an entire state of TV morning show hosts. And the whole "one of us" thing is genuinely repugnant. This state treats itself like a country club and it treats the rest of the world like it's on a waiting list to get in. If only Minnesotans knew how little everyone else thinks of that frozen wasteland. By God, I will scream my contempt out loud through the new Gjallarhorn.
Also, Norv is still the OC. If Norv Turner were a doctor he'd leave a scalpel inside you by accident. Watch any game called by Norv and you will witness at least one drive, perhaps more, that seems to have been deliberately sabotaged. Wait, why are we running the ball with no timeouts left? Why did he call that fullback lateral? IS HE A DOUBLE AGENT?! Norv can rot in hell.
Blair missed the kick.
Your quarterback: Teddy Bridgewater. Every time I talk to my friends about the Vikings, they usually ask, "So, how you feel about Teddy?" And when I tell them that I like Teddy, they arch their eyebrows to the point of spraining vital facial muscles. Really? You sure about that answer? You sure you don't want to change your story there? This is because they know that Teddy has the arm strength of a wingless seagull. Every pass downfield looks like it's on replay. Faced with a mild pass rush, Teddy looks like the town bully just told him to meet him behind school at three o'clock. I am a moron for believing in Teddy, particularly when he conspires with Norv to make moments like this happen:
Fuck me blind. Also, Teddy led the drive that led to Blair missing the kick.
What's new that sucks: The stadium! Yes, this year the Vikings unveil their billion-dollar, bird-murdering stadium, which looks like a set of giant Magna-Tiles some toddler left in the center of downtown Minneapolis. Al Michaels has already creamed his Four Seasons bathrobe thinking about the place.