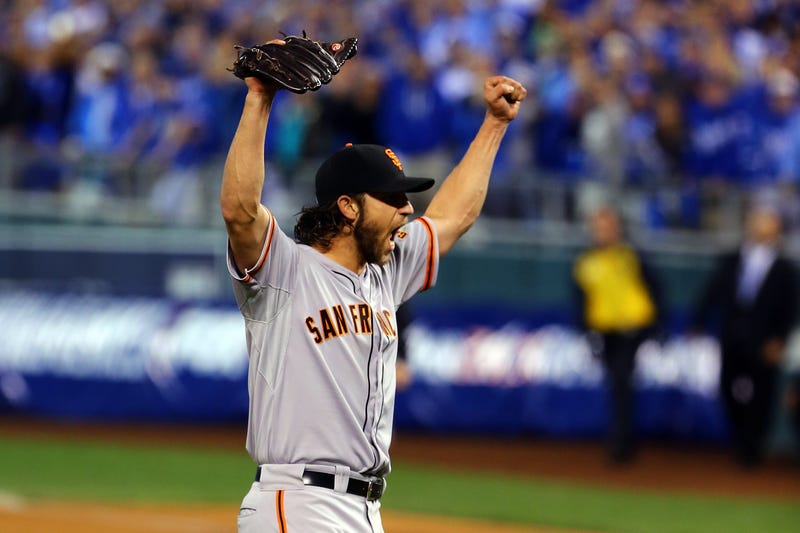 What Madison Bumgarner just did is supposed to be impossible. Every single pitch, every single whip of the arm exerts an extreme amount of pressure on the wrist, elbow, shoulder, and every single joint and muscle in-between. After games you see starting pitchers with giant bags of ice wrapped around their shoulders, and they exist on a strict regimen of light-to-moderate throwing sessions in-between starts. Everything is geared so that, once every five days, they can stand on top of the mound and violently hurl their arm towards home plate 100 times.
Madison Bumgarner pitched a masterful complete game shutout in Game 5 on Sunday, the first in the World Series since 2003. In the regular season, he wouldn't have pitched again until Friday. But Jake Peavy blew Game 6, and Tim Hudson was well on his way to blowing Game 7 before Bruce Bochy yanked him in the second inning. Bochy turned to Jeremy Affeldt, one of his best relievers, and rode him for 2 1/3 innings. Affedlt hasn't pitched more than 2 1/3 innings since he started some games in 2006. He was ridden as far as he could go.
Heading into the fifth inning, Bochy had to decide how to eat up the remaining (at least) five innings of the game. Does he use one of his long relievers, Yusmeiro Petit or Tim Lincecum? Does he use Hunter Strickland or Jean Machi, two of his worst relievers who both pitched last night? Does he somehow try and wring five innings out of the ultra-reliable trio of Javier Lopez, Sergio Romo, and Santiago Casilla?
No, of course not. Bochy chose Bumgarner.
The Giants would've been grateful for practically anything Bumgarner could have given them. Anything to push them deeper into the game, each inning bringing the Giants closer to only needing to use their better relievers. But Bumgarner said "nah, fuck that."
In the fifth inning he gave up a single to Omar Infante, who didn't advance beyond second, before retiring the side. In the sixth inning he went 1-2-3. In the seventh inning he went 1-2-3. In the eighth inning he went 1-2-3. In the ninth inning he went 1-2-oh shit Gregor Blanco turned that single into a triple-3. And that was it. That was the end of the World Series.