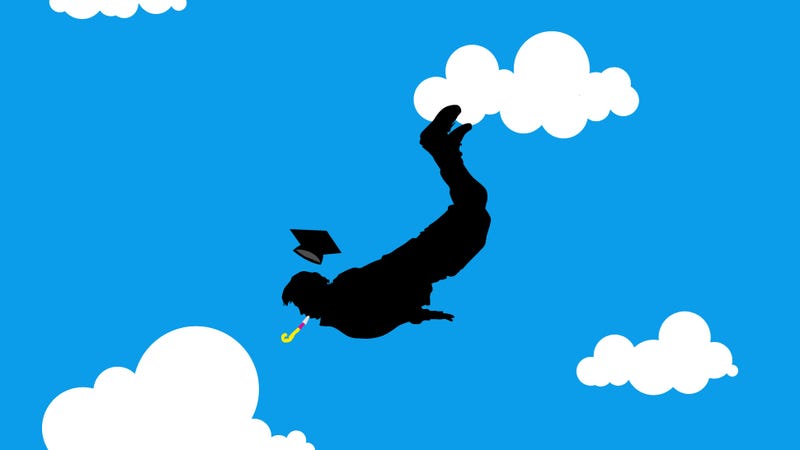 It's May, which means it's time once again for actors and writers and politicians and whatever Thomas Friedman is to hit the graduation circuit and hold senior classes hostage for hours and hours in 85-degree heat. These grad speeches are little more than TED talks in funny hats. Trust me: One day, you will see speakers ditch the podium and go straight for the telemarketer ear piece and microphone, the way TED speakers do it. Here's the format for most of these speeches...
1. CLASS OF '13!!! YEAH!!! EVERYONE SAY WOOOOOOO!!!
2. Thank you for having me, (lists people you don't care about).
3. I remember when I was your age ... (recites life story from the age of 18 onwards)
4. You're gonna face challenges in the world today! (Executes two-hour stump speech devoted to pet cause: environmentalism, water for Africa, gay marriage, vaccines give you autism, etc.)
5. But you can do it because ... (three minutes of empty platitudes)
6. I AM PROOF THAT YOU CAN MAKE SOMETHING OF YOURSELF, GANG.
7. Reprise of step #1.
Well, screw all that. It's my job, as a pasty blogger with minimal influence and virtually no community-outreach work to his name, to CUNT PUNT some reality into you, and the reality is that you are fucked. You're so fucked, you probably started drinking at 9 this morning just to get away from your future. The total student-loan debt in America has now exceeded one trillion dollars. Your college just bent your parents over and finished on their back. If you took out a student loan, your life will now consist of trying frantically to pay that money back, and then dying. That's pretty much all there's time for.