On Friday, Mariano Rivera blew the save. It was the 73rd blown save of his career, and one of many from baseball's opening weekend. Predictably, it brought out the old standby storylines: Is this it for Mariano Rivera? Has Father Time finally caught up with the cutter?
These columns should be easy to write by now, since they've been written for at least a decade—often by the same writers. Going back to his blown save in Game 7 of the 2001 World Series, the ever-vigilant columnists of the Tri-State Area have been watching for signs that the once unhittable Rivera is succumbing to the ravages of age. And every time he strings a few shaky outings together, the death knell is tolled.
Here, a few of our favorite Mo pre-obituaries from the past 10 years.
Andrew Marchand, New York Post, May 5, 2002:
When "Enter Sandman" plays throughout the Stadium, the game is supposed to be over.

"My stuff is there," Rivera said. The results have not. Nobody at the Stadium is worrying. Yet.
Pat Borzi, Star-Ledger, May 7, 2002:
Rivera has been so good for so long that anything remotely resembling a slip brings the kind of scrutiny usually reserved for a Bob Mackie gown on Cher. Rivera's throwing error and blown save in World Series Game 7 in Arizona were shocking reminders that Rivera is as human as any other closer. But three times already in the Yankees' first 32 games Rivera has blown a save or a tie, and any baseball fan who can find the Bronx on a map is wondering what's up with Mo.

"His cutter is not as sharp and as late as in years past, and he's throwing a lot more sliders and two- seam fastballs," said one major-league scout. "I'm not saying he's schlock, but he's just not as dominating as he used to be.

"Is it just early-season doldrums, or years of wear and tear finally wearing and tearing? That's the question for me."
G/O Media may get a commission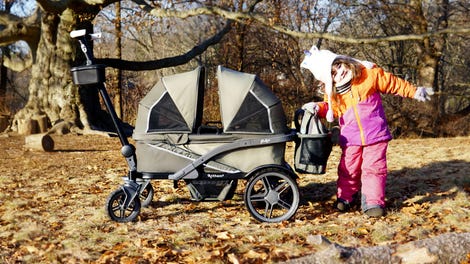 30% off
The Anthem All-Terrain Stroller Wagon Adventure Bundle
Go everywhere with your kids
This must-have bundle nets you either of Gladly's award-winning Anthem2 or Anthem4 All-Terrain Stroller Wagons as well as must-have accessories like a parent cupholder, a removable storage basket, extra-large canopies, a nap system, quilted comfort seats, a cooler bag with a padded shoulder strap, and a travel bag.
Wallace Matthews, New York Sun, August 5, 2003:
Sometimes, it is readily apparent when something special comes to an end, and sometimes it takes years to realize it. For the Yankees, it has been a nearly two-year process, and it can no longer be ignored or denied. Remember the date - November 4, 2001 - because on that date, Mariano Rivera went from automatic to merely great.

Over the past two seasons, there have been nagging injuries, trips to the DL, weeks of inactivity, all routine for a pitcher pushing 34 years old. All of last season, Mariano Rivera threw just 46 innings.

...

Mariano Rivera is not an automatic anymore, and hasn't been since Nov. 4, 2001.All things, great and small, come to an end, even for the New York Yankees.
Mike Lupica, New York Daily News, August 22, 2003:
Rivera has blown six saves this season, which puts him one behind Armando Benitez for the New York City Blown Save Lead. Rivera has blown five saves in the last month. That is a lot. It isn't all just seeing-eye ground balls or bad luck. Maybe that's why a Yankee fan I know, a smart one, asked me this question yesterday:

"Remember when the Yankees went after Goose Gossage even though they had Sparky Lyle? When does George start giving Eric Gagne the eye?"

...

Nobody pitches like that forever. Maybe the best late-season guy of them all is starting to move into the late innings himself.
Wallace Matthews, New York Sun, July 28, 2004:
The case can be made that over the past seven years, there has been no more valuable Yankee than Rivera, more than Jeter or Posada or Bernie Williams or Joe Torre or even The Boss. But what if that is all changing now? Four months from now, Mariano Rivera will turn 35. As a closer, he hasn't thrown a lot of innings - 702.2 entering last night's game against the Blue Jays - but nearly every one of them has been intense and pressurized. And sooner or later, everything, good, bad and indifferent, comes to an end.
Mike Lupica, New York Daily News, March 6, 2005:
Rivera is the greatest pitcher the Yankees have ever had. He is the greatest postseason closer in baseball history. He is also 35, going on 36, and has now had nine full seasons as an extraordinary power relief pitcher. As great as he has been, he is not going to get any better at this stage of his career. He knows. The Yankees know. They just want him to maintain. If he doesn't, they don't win, even with the world's first $200 million payroll.

Maybe Rivera will just continue to bust that cutter of his in on righthanded batters forever, maintain this level of excellence to the end of his current contract and beyond. But you have to know that he isn't just trying to break bats and hearts and everything else against opposing batters now. He isn't just trying to show he can get the last three outs against the Red Sox. Or the last three innings he got off them in the Aaron Boone game, Game 7 of the 2003 American League Championship Series.

Rivera is going against time now.
Bob Klapisch, Bergen Record, April 7, 2005:
Is this the beginning of the end of an era? If it's too early to officially start tracking Rivera's decline, the Yankees will be monitoring him with unprecedented scrutiny if he faces the Orioles this weekend. Only then will the Bombers know if it's just the Red Sox who've cracked the code on Rivera, or if his diminished cut-fastball is vulnerable to the rest of the American League, too.

...

"It's part of the game," he said with a gentle smile. "It doesn't matter to me."

Rivera fooled no one, of course. His crisis is everywhere: on the mound, within the clubhouse and on the corporate hot line from the Bronx to Tampa. Fingers crossed, prayers mumbled fast and furious, the Yankees wonder if they've taken their first step into an unthinkable place called the post-Rivera era.
John Harper, New York Daily News, May 20, 2006:
In big-picture terms, there surely is only one sight more frightening to Yankee fans these days than Randy Johnson continuing to sink in some sort of middle-age quicksand: That would be Mariano Rivera, Mr. Automatic, not just getting beat in the ninth inning by the Mets last night, but continuing to look surprisingly hittable of late.
Johnette Howard, Newsday, May 9, 2007:
The bigger curiosity, as Reggie Jackson conceded as he stood by the Yankees' batting cage last night, is whether Rivera's demonstrative reaction to Monday's loss betrayed that Rivera's mind is not as impenetrable as it used to be, not after a month-long slump that has included two dramatically blown saves, a 1-3 record, and an ERA of 8.44.

Over the years, Rivera's aura as the game's greatest closer was built on his apparent immunity to pressure, and his unflinching stoicism even in the postseason or the worst of times. He's spent most of his career insisting one of his primary aims is to never let the other team see him sweat. Now we get this? The legendary Mariano Rivera screaming "Oh my God" on the mound in a game the first week of May?

"What he could have been reacting to the other night was a lot of things," Jackson said. "It could have been 'Oh my God' because of the situation in the game. Or the location of the pitch that got hit. Or the sound of the bat as soon as the guy hit the ball - as in 'Oh my God, I got hit again?'

"Or" - here Jackson paused for emphasis - "what we might have seen could have been doubt."

Rivera always says he permits himself no such thing. But Jackson says it's an inevitable career stage that happens to every big leaguer, especially if they last long enough. "There's even a phrase for it: 'Once a man, twice a boy,'" Jackson said.

"At first there's that early stage in your career when you're still young, you first make it in this game, then you level off for the first time and think to yourself, 'Uh oh - they found me out.' Then you have your middle years when you're a full adult and you attain your full greatness like Jeter or A-Rod are now. Then all of a sudden you get to 35, 36 and you have a bad slump like Mo is in, and you're back to saying to yourself, 'Uh-oh . . . I know the end is coming sooner or later. Is this it? Is this it?"'
Ian O'Connor, Bergen Record, August 16, 2007:
The greatest closer of them all spent his Wednesday doing a fairly good impression of a 56-year-old coach throwing a productive round of BP, this only two days after blowing his first save since April, and only three days after nearly doing the same in Cleveland. The moment moved Rivera to come clean in the losing clubhouse. He is no bloodless automaton. He is a man - a quiet and dignified and flawed man.

He's a man who'll turn 38 in November. Sometime in the not-too-distant future, maybe a couple of years from now, Rivera will likely look as human as he did against Baltimore on a far more regular basis. The cruel forces of age will conspire against him, just as they ultimately conspire against any Hall of Fame athlete. It's a sobering thought to any Yankee fan conditioned to believe that Rivera's presence on the mound is as comforting as Phil Rizzuto's voice had been on the air.
Bill Madden, New York Daily News, August 16, 2007:
A leadoff double off the wall in right-center field by Nick Markakis, another long double to left by Miguel Tejada and finally a towering home run into the right-field bleachers by Aubrey Huff and suddenly the Stadium was hushed. And you could almost hear the questions: "Uh, oh. What's wrong with Mo? This is three straight times now. There must be something wrong. What do we do if there is?"
Peter Abraham, Journal News, June 7, 2009:
The version of Rivera who jogs in from the bullpen these days is not the infallible closer the Yankees have relied on for so many years...Troubling signs surround the 39-year-old Rivera, who has allowed 26 hits in 23 1/3 innings.
Joel Sherman, New York Post, October 31, 2009:
The price of greatness this year for Rivera is a higher level of duress on a right shoulder that was operated on 56 weeks ago and turns 40 years old in four weeks. The Yankees are running a race here, trying to get to the Canyon of Heroes before Rivera's arm surrenders.

"We have gotten near the red flag area, but not reached it," pitching coach Dave Eiland said.
Joel Sherman, New York Post, May 23, 2010:
Mariano Rivera had permitted runs in three consecutive outings, even before doing so again in the last week. It had happened four times, in fact, including as recently as 2007. But three of the four previous times it occurred was in August, or at a point that it could be explained, to some degree, by the fatigue of a long season. It also never happened when Rivera was 40...It is a reminder that every athlete - even those that defied age more than most - have expiration dates.
John Harper, New York Daily News, September 16, 2010:
Rivera's third blown save of the season, against the Rangers, was notable mostly because it was the rare night when he didn't have anything resembling his pinpoint command. He looked so off his game that he walked free-swinging Vladimir Guerrero, which is no small feat, and later hit Jeff Francoeur with a pitch to force in the winning run.

It seemed only logical to conclude that Rivera's ineffective outing was an indication that his days of pitching two innings, as he had Friday night in Texas, and being able to bounce back the next night were over. Hey, there has to be some concession to being 40, right?
Mark Feinsand, New York Daily News, September 28, 2010:
You can argue that Mariano Rivera has been the most important player during each of the Yankees' five championships since 1996. Is this the year the future Hall of Famer finally shows his age?
Kevin Kernan, New York Post, August 10, 2011:
Rivera is not concerned. There is no cooler customer in baseball history than Mariano Rivera. He said this is the way the game goes. Rivera is 41, though. Even baseball gods get old.

...

Rivera is Yankee gold. Still, in a season of questions, the biggest question is staring the Yankees in the face: Is the Great Rivera finally showing his age?
Tyler Kepner, New York Times, August 11, 2011:
Even the most impatient fans and reporters are right about one thing: the end will come. Everybody dies. No career lasts forever. Even Mariano Rivera's.

Rivera, who turns 42 in November, has 29 saves. Only one pitcher has had 30 saves at that age: Dennis Eckersley, for St. Louis in 1997. Eckersley played one more season, as a middle reliever with Boston. In the last inning of his career, in a playoff game against Cleveland, he served up a homer to Manny Ramirez that might still be going.

Nobody wants to see Rivera end like that. Or like the great Goose Gossage, bouncing to seven teams in his final seven seasons, picking up a stray save here or there. There is nobility in pitching as long as you can, in making summer last as long as possible. But it would not suit Rivera, a career Yankee who defines athletic grace.

...

Against Abreu on Tuesday, it did not, and Scutaro also handled the pitch. Rivera is signed through next season, and he reacted calmly to the defeats, as always. But such moments remind us of the uncomfortable reality that Rivera, the Yankees' indispensable closer, is reaching an expiration date, as all players do.
Joel Sherman, New York Post, August 13, 2011:
Through it all, Mariano Rivera felt safe, felt like he had immunity from the athletic ravages of age. He was the Robo-closer. A cutter Terminator. Indestructible. Eternal.

His genius was so long-lasting that it has become conceivable to believe the inconceivable: Rivera essentially could go on forever.

However, if nothing else, Rivera's last week heading into last night was a shot of sanity that all things - no matter how brilliant - end. Was this the beginning of Rivera's end?
Ian O'Connor, ESPN New York, April 7, 2012:
One of these seasons, the New York Yankees will get the old Mariano Rivera, not the Mariano Rivera of old. It will happen. As sure as his case for Cooperstown, the greatest closer of them all will fall to the undefeated forces of time.

Maybe it will be this season, maybe not. But long before Rivera came undone in a 7-6 defeat Friday, even the most optimistic Yankees fans had to concede that 2012 could be the year when hitters start crushing the cutter the way the Tampa Bay Rays crushed the one-and-only's one and only pitch.
Joel Sherman, New York Post, April 8, 2012:
One of the worst parlor games in major league history has been trying to guess when Mariano Rivera will lose his dominance.

He has 78 blown saves between the regular season and playoffs - see he is human - and after a fair amount of them, especially in recent years, you begin to do the mental calculation of age to wear and tear to reality. Of course, Rivera always has defied age, wear and tear, and even reality. That means none of the blown saves led to anything more than a temporary annoyance - OK, something a little longer than temporary on some, like Game 7 of the 2001 World Series. But none actually has turned out to be a true hint that the beginning of the end was upon Rivera.

And the likelihood - if history holds - is that his Opening Day implosion was a blip and nothing more. But, you know, the parlor game never stops. Because Rivera's age and uniform number match at 42. So we will watch. Wait. Wonder.