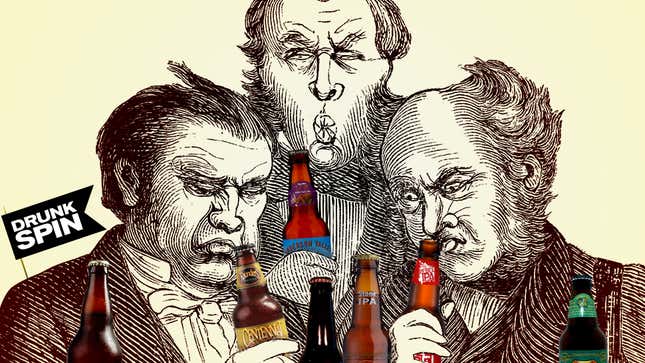 The British invented India pale ale in the 18th century, but despite having been born in one foreign country and named for another, IPA has evolved into a distinctly American art form. Excellent IPAs are now made all over the world, but America's unrivaled dedication to hops and bombast have effectively made this bitter, high-proof brew our national drink.
The notion of American exceptionalism has gotten us into some stupid wars and given rise to such lesser-evil peculiarities as the professional bass fisherman and the quarter-million-dollar liberal arts degree, but daring American dreamers have also introduced the world to the glories of mozzarella sticks and low-flop soccer; once our minds get to wandering, there's no telling what we're going to end up with.
In the case of our goosed-up, hop-forward IPAs, we've ended up with an exceptional class of beer that has lately been overshadowed (which is not to say out-sold) by more exotic variants such as shandies, saisons, and triple imperial barrel-aged everythings. IPAs certainly aren't fading out of favor with consumers, but beer nerds are talking about other things these days. That's cool. If IPAs are taken for granted by the elite craft-beer yakkers, that means they're mainstream enough for the rest of us dirty beasts to consider in depth. And by consider in depth, of course, I mean arbitrarily rank.
Well, not quite arbitrarily. I put some thought into the methodology for this one. I selected 14 IPAs that met the following qualifications: significant national profile (as measured by what limited sales data I could find and the number of user reviews on major beer sites); distribution to my state (so no Bell's Two-Hearted, which I realize is a glaring omission that renders this list useless and my continued oxygen use felonious); and a maximum alcohol content of 7.5 percent (which means no Green Flash West Coast, which has recently been bumped up from 7 percent ABV to a bonkers 8.1 and reclassified as a double IPA). Please don't regard this as a list of the 14 best IPAs and yell at me for missing your favorite, but please do let me know of other good stuff out there.
These rankings reflect one idiot's perfect and inarguable opinion, though I did bring in a few consultants. I was joined, as always, by Drunkspin Research Director Emily, who conducted the blind tasting, and also by three moderately qualified friends: one bartender, one homebrewer, and one garden-variety drunk with nothing else to do on Sunday afternoon.
14. Dogfish Head 60 Minute IPA; Milton, DE; 6 percent ABV
Man, this list is busted before it even starts! Nearly all IPAs are very good—their production is too expensive and agriculturally exacting for profit-motivated macro-brewers to fuck with—but it's still unconscionable to rank the iconic Dogfish 60 last on any list, no matter how esteemed the company. But this is how it shook out. We were all surprised, but 60 Minute tasted comparatively thin and washed-out. It's still a good beer, but the once-revolutionary pineyness from the blend of Pacific Northwest hops now seems routine, and the faint fruity undertones came across as a touch syrupy and not altogether fresh, despite the bottle—as all others in the tasting—being clearly marked as within its window of optimum drinkability.
I was tempted to get another bottle and try again, until I realized that I wouldn't have for a less familiar beer. If Drunkspin ever gets around to an imperial IPA tasting, I fully expect Dogfish 90 Minute to hold its own against the fabled cult beers currently dominating that conversation; I have not lost any faith in Dogfish Head being one of the finest breweries in the country. But 60 Minute seems to have been left behind.
13. Victory HopDevil; Downingtown, PA; 6.7 percent ABV
HopDevil's two-row German malt provides a more classically British caramel character before the heavy hops come through on the slightly astringent finish.
12. Samuel Adams Rebel IPA; Boston, MA; 6.5 percent ABV
This new beer is one of the blander IPAs I've tried. Sam Adams touts it as explicitly West Coast in style, which led me to expect more aggressive hopping. They use a blend of Cascade, Centennial, Simcoe, Chinook, and Amarillo, but evidently not enough of any of them to leave a very strong impression. This is a good beer that lacks the distinctiveness or excellence necessary to make much of a mark on a crowded category. The Boston Beer Company pumps out a ton of different beers these days—some very good, most regular good, a few ungood—but they still haven't done better than their groundbreaking flagship lager.
11. Stone IPA; San Diego, CA; 6.9 percent ABV
This quintessential West Coast IPA starts out round and balanced before the malt gets washed under a giant hop wave that delivers pine and citrus in equal measure before numbing your tongue. I really like Stone beers—their Enjoy By IPA is one of my favorite specialty releases—but the base-model IPA is just a bit too overtly boozy to rank in the very top tier.
10. Founders Centennial IPA; Grand Rapids, MI; 7.2 percent ABV
I expected great things from this pretty ruby brew, and instead I got very good things. Tropical sweetness gives way to round bitterness in a very well balanced IPA that does an excellent job hiding its high alcohol content.
9. Harpoon IPA; Boston, MA; 5.9 percent ABV
This was a pleasant surprise. I almost didn't include Harpoon, because I thought it would be unfair to damn it to last place 21 years after its pioneering debut. Harpoon popularized the IPA style in the New World way back in the summer of 1993, and while the original recipe has since been eclipsed by their excellent Rich and Dan's Rye IPA and by some of the hoppier iterations of their limited-release 100 Barrel Series, the OG American IPA still holds up shockingly well. It's malty and grainy for the style, but is kept on course by a thick vein of citrus and pine from the Cascade hops.
8. Goose Island; Chicago, IL; 5.9 percent ABV
The aggressively hoppy nose fades to a curiously milky and spicy flavor reminiscent of hard cream soda. This is brewed in the maltier English style, but has more than enough bitterness to land it in the middle of this strong pack.
7. Lagunitas; Petaluma, CA; 6.2 percent ABV
This is the point where we shift from very good to even better. Lagunitas is ubiquitous in my little beer orbit, and I now realize I've been taking it for granted. It has the brewery's characteristic hop overload, but they're thoughtfully blended to produce a soothing dose of tropical fruit along with the dank, biting pine.
6. Anderson Valley Hop Ottin'; Boonville, CA; 7 percent ABV
Stands out for its dark color and strong head, along with a faint vanilla sweetness that almost suggests barrel-aging. The hops are very strong and resiny, with just a bit of grapefruit; slightly more fruit presence would have moved this up even higher, but it's still an excellent beer.
5. Sierra Nevada Torpedo; Chico, CA; 7.2 percent ABV
Sierra Nevada practically invented the modern market for hoppy West Coast beers with 1980's introduction of their signature Pale Ale, but they weren't in the year-round IPA game until Torpedo became a regular part of the rotation in late 2008. The name comes from their method of ensuring more thorough and consistent dry-hopping, which gives Torpedo all of the fruit and pine aromas you could ask from the blend of Magnum, Citra, and Crystal hops without excessive bitterness masking the smooth malt flavor.
4. Bear Republic Racer 5; Healdsburg, CA; 7.5 percent ABV
The first whiff is ominously suggestive of Smarties, but it quickly settles down into an assertive yet well-balanced classic West Coast IPA that may well have been best in show if it had done a slightly better job of hiding the booze wallop.
3. Ballast Point Sculpin; San Diego, CA; 7 percent ABV
This is another one I almost didn't include, for the opposite reason of Harpoon. Sculpin has been delicious every time I've tried it, but it costs a couple dollars per six-pack more than any other beer in the tasting, so I debated disqualifying it. I can't think of another six-pack of 12-ounce bottles in its price class (about $15 around Boston). Usually once a beer gets that expensive per ounce, the packaging shifts to four-packs or bombers. But anyhow, I included Sculpin, and was surprised it didn't win. It showed the super fruity character I remembered, stuffed with citrus and stone fruit notes that are augmented by nice grassy and piney hops that fall one thin hair short of achieving ideal balance. Sculpin remains one of my favorite beers.
2. Great Divide Titan; Denver, CO; 7.1 percent ABV
I don't recall having Titan before this tasting, but there's going to be quite a bit of it in my glorious future. It pours a darkish amber and smells a bit like asparagus pee, but it tastes remarkably well rounded (and not at all like urine!). Great Divide's commercial description touts it as a beer for "hop disciples," but I think that might sell it short—Titan is set apart by the pronounced malty sweetness riding along with the excellent citrus-pine hops found in most classier IPAs.
1. Firestone Walker Union Jack; Paso Robles, CA; 7.5 percent ABV
Union Jack was the most complex beer in the tasting, which can be risky business, but every single note comes together perfectly. The pine and pineapple nose yields to heaps of grapefruit and sweet malt before the pine reemerges on the long finish. A lot of people who get around far more than I do consider Firestone Walker to be the finest brewery in the country. I can't weigh in on that, but I can assure you that Union Jack is the best widely available IPA your money can buy.
Will Gordon loves life and tolerates dissent. He lives in Cambridge, Mass., and has visited all of the other New England states, including, come to think of it, Vermont. Find him on Twitter@WillGordonAgain.
Image by Sam Woolley, source image via Shutterstock.
The Concourse is Deadspin's home for culture/food/whatever coverage. Follow us on Twitter:@DSconcourse.