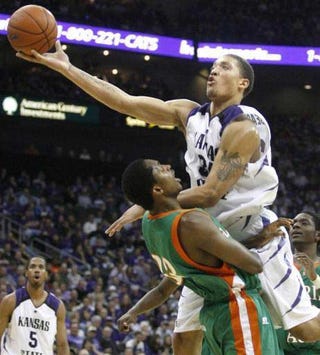 I'm not going to bother trying to figure out who's taking whom. I mean, it would be easy if teams used common sense and drafted based on need ... but who does that anymore? So instead, I'm going to rank the available players based solely on talent, potential, and whether the coin I'm flipping lands on heads or tails.
1. Michael Beasley: Dude is a straight-up athlete. His size, strength, and Plastic Man-like arms allow him to score from inside (53 percent shooting) and out (38 percent from three). During his freshman year at Kansas, he put up points (26.2), pulled down boards (12.4) and showed great versatility (in the NBA, he'll be able to play either SF or PF). His 1:2.5 assist-to-turnover ratio is a concern (think Eddy Curry and Zach Randolph), but let's face it: You want Beasley scoring, not running the offense. His biggest drawbacks seem to be that he's "immature" and — instead of the 6'10" he was reported to be in college — he's actually about four feet tall.
2. Derrick Rose: This kid is a strong, speedy PG who can blow by his man and shoot from distance but tends to think pass-first (ala Deron Williams). The biggest positive, though, is that he's solid on offense and defense. He's supposed to be a great leader, too. The biggest negatives are his sometimes clunky jumper (think a slightly better version of Rajon Rondo) and his poor freethrow stroke (71 percent). Fun fact: Rose has a tattoo on his left biceps depicting a wizard holding a staff in one hand and a basketball in the other. The tat is below the word "Poohdini."
3. O.J. Mayo: He's a shooter who can also get to the hoop and finish. People say he's very strong and has an "NBA-ready body" (I assume this means he's capable of fathering multiple children with several different women). Mayo can light it up (20.7 PPG last season) and bomb from deep (41 percent three-point shooting), and he can also D-up (when he chooses to). Unfortunately, he tends to believe that "defense" is just "waiting to get back on offense." Furthermore, he doesn't have a mid-range jumper and he's not much of a passer (3.3 APG compared to 3.5 TOs). Reports say that he's an egomaniac...but what NBA player isn't?
4. Jerryd Bayless: Don't be concerned by the fact that there are some vowels missing from his first name. Jerryd can score (19.7 PPG) and shoot (41 percent from downtown), and his decision-making ain't bad (1.4:1 assist-to-turnover ratio). A lightning-quick first step combined with mad springs allow him shuttle past his defenders, which sure compliments his air game. Don't expect this kid to hit the glass, though. And his defense is a little lacking for somebody so athletic (only 1.0 SPG). Can get a little shot-happy from time to time.
5. Kevin Love: Everything inside my brain is screaming to drop Love out of the Top 5. He's a white banger who draws favorable comparisons to Bill Walton. Need I say more? He put up numbers (17.5 PPG and 10.6 RPG) while shooting lights out (56 percent), and is considered an "amazing passer" despite his 1.9:2.0 assist-to-turnover ratio. He has a complete offensive game — baby hooks, mid-range jumpers, long-distance bombs, fantastic shot fakes, etc. — and he's tough on the boards and his opponents. But he's slow, bound by gravity, lacks stamina and has already struggled with knee issues. All of which mean he could end up being more Ostertag than Walton.
6. Russell Westbrook: I'll admit it: Westbrook has seduced me with his athleticism. He can sprint and slash, and explodes off the ground like NASA built him. He's not a great ball-handler and can't hit consistently from distance, but he's an above average passer who has shown a knack for improvement. He has strong work ethic and an aching hunger to play defense. He has...I can't believe I'm saying it...incredible upside.
7. Danilo Gallinari: Hey, what would the Top 10 be without at least one Euro player? And the G-Man is your typical Euro-style baller: He can score, rebound and pass, moves without the ball, hits from mid-range and has the all-important "high basketball IQ" (read that: he's not fast or athletic, but he can still play). He's got some solid pro-lite experience playing in the Italian league — in 2006 he was nominated best Italian player of LegADue championship and he was recently awarded with the Euroleague 2007-08 Rising Star Trophy — but anybody described as "a better long-term prospect than Andrea Bargnani" makes me nervous. Very nervous.
8. Eric Gordon: Some say he's like Ben Gordon 2.0. Okay, I said that, but still. The kid's a jumping jack who can shoot from area code range and take it to the hoop thanks to his crazy speed and springs. He's also a rugged defender who knows how to play the game. Unfortunately — to continue the Ben Gordon comparison — he's small for a SG (6'3") but not really cut out for point duty (mediocre handles, questionable shot selection, erratic passing). His shooting got ugly after he suffered a wrist injury in January. But he should be fine now. Ideal role: Sparkplug off the bench who can put up points fast.
9. Brook Lopez: Normally, I'd never let somebody named "Brook" sneak into my Top 10. However, the dude is big (7'1") and beefy (258 lbs), and he has a wide range of post moves. Hell, he can even stroke the J from up to 18 feet out. He's reasonably athletic and has a solid mind for hoops, but he's a little substandard on the boards despite his size and athleticism (8.2 RPG last season). His shot selection is sometimes under suspicion of sucking.
10. D.J. Augustin: This kid can score (19.2 PPG last season) and serve the rock (5.8 APG with a 2.1:1.0 assist-to-turnover ratio). He can bomb from outside (38 percent three-point shooting) and use his speed and springs to get to the rim...and finish. Here's the problem: He's not even as tall as the 6'0" he's listed at (probably closer to 5'10"). So no matter how talented he is — and he's really, really talented — that kind of, ahem, shortcoming will make it hard for any team to play him consistently against bigger PGs (which is just about everybody).
11. Joe Alexander: This guy has skills (scores inside and out, can leap out of the gym, knows the game, quick on his feet) and pedigree (three seasons at West Virginia). BUT...he can't handle the rock, tends to streak (at best) from distance and is a so-so rebounder for somebody his size. Makes me think of Brad Lohaus, and that's not a good thing. But one scout claimed that Joe is "obsessed" with improving and reminds him more of Tom Chambers. Maybe he's somewhere in between, more of a Brad Chambers, perhaps.
12. Brandon Rush: Rush is athletic, tall for a SG (6'7") and can flat-out light it up from Three Land (43 percent over three seasons at Kansas). Rush also rebounds well for a guard. He's strong, long-armed and versatile enough to play spot duty at SF. Three years at college means he's (probably) more mature and ready to contribute than most of the one-and-dones. The digs are that his handles are broke and he can't create his own shot. He's also had a history of ACL woes and he can't straighten his arm because of a childhood elbow injury.
13. Kosta Koufos: Typically, I don't trust big men from Ohio State. Remember that Greg Oden guy who went number one last year? What a bust! But it's hard to pass up a seven-footer with the wingspan of a pterodactyl who can score inside, shoot from outside and throw his weight around. He had a decent freshman year and averaged 26.5 points, 13 rebounds, 3.5 blocks and 1.4 steals in the U-18 European Championships this summer. That's the good news. The bad news is he's a sluggish defender who tends to disappear when he's not playing well...and his toughness has already come under question. Might be Darko Milicic 2.0.
14. Anthony Randolph: Athletic. Go-Go Gadget Arms. Wacko springs. Offense from the low post to mid-range. Fast. A solid rebounder and shot blocker. So why's he here instead of up there? Dude is a freaking twig: He's 6'10" but only 197 pounds. It's time to invest Beefcake 2000, otherwise a strong wind might blow this kid and all his potential far, far away.
15. Darrell Arthur: Mr. Arthur can streak from end line to end line, and his length and superior athletic ability allow him to score and defend against both SFs and PFs. He can score with his back to the basket and hit from the middle of the floor, and he'll even crash the boards. The not-so-upside is that he's a bit puny for the forward position, lacks three-point range and has been labeled a "black hole." Not good. Oh, and he tends to zone out. He's gotten this far on potential. It'll be interesting to see if he realizes it.