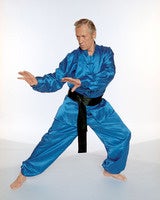 Here's some good news, the Commenter of the Year Award (COTY or Commenties) is back! But before we get to the big award, it's only fair we get to do some fun year-end list stuff.
2009 Comment Ninja Year in Review
Wow, 2009 was a turbulent year: the Dodgers left Brooklyn, Antony and Cleopatra went Splitsville and "Mr. T Ate My Balls" took the Internet by storm. Also, Deadspin had mass bannings, hurt feelings, Peter King posting in all the wrong places and hashtagging instructions. Fun!
Album of the Year
My Chemical Romance! Let's Get Chemically Romantic…Live!
College Coach Who Most Resembles in Mind, Body and Spirit, TV's Coach of the Year
Robb Akey, the coach of Idaho. Don't ask me why but I sense a Dauber-like special teams coach in that system.
Sportscaster of the Year
Dick Stockton. The guy is a pro.
Year of the Year
2009!
Best Fielding Catcher (American League) of the Year
Joe Mauer
Fuck You Smug Status Symbol of the Year
Kindle
Medical Error of the Year
Ineffective Vasectomy
Pepto-Bismol Run-Stopper of the Year
Jamal Williams
Movie of the Year
No Country for Old Men. The Wachowski Brother's tour-de-force about the troubling new health care system and oppressive Canadian wait times struck a chord with viewers this year. Javier Bardem turned in a haunting performance as Hunter Campbell "Patch" Adams.
Man's Man Accomplishment of the Year
Jumping your home-built dune buggy over a lava flow while getting roadhead from a Penthouse pet.
Embarrassing Hick of the Year
Sarah Palin
Method to Commit Suicide on Christmas Eve of the Year
Laying down on train tracks. (RIP Uncle Frank)
Audio-book of the Year
CD Players for Dummies
Men's Shoe Style of the Year
Wing tipped Oxford! Square toe is for the weak.
Fortune Telling Style of the Year
Reading sheep entrails. Predicted that the Tamil Tigers would fall, and that I would be evicted from my apartment for animal cruelty- and I would not be getting my cleaning deposit back.
Larger Than Average Body Part of the Year
Visanthe Shiancoe's penis
Unfunny* Commenting Meme of the Year
*Movie quotes
*Photos that are not funny
*Visanthe Shiancoe has a larger than average penis
*I would/wouldn't give that woman a vigorous sexing
*"This site, editor, writer, new media conglomerate or feature sucks!"
*O AN HE SEXY and variations thereof will be evaluated on a case by case basis.

Former Commenter of the Year Update
The last recipients of the COTY went on to big things: CampTigerClaw edits Walkoff Walk, and ArkansasFred used his COTY award money to pay off some medical bills and invest in himself; he now owns four Quizno's franchises!
2009 Honorable Mention
MarkKelsosMigraine
This guy does it all: comment on Deadspin, comment on Deadspin funnily and make a bunch of swishy theatre references that have to be Googled (hint, it's probably Pauline Kael or Opéra bouffe). He's good.
Karlifornia
His name is a combination of Karl and California! He's not afraid to make a joke about the Magic School Bus.
COMMENTER OF THE YEAR
Hatey McLife
Could it be anyone else? No. It could not. You should all want to be like him.
See you all in 2010, and remember BE FUNNY ALWAYS! Work hard, be creative and maybe, just maybe, next year's winner will be...you!
Image © Courtesy Public Broadcasting Service