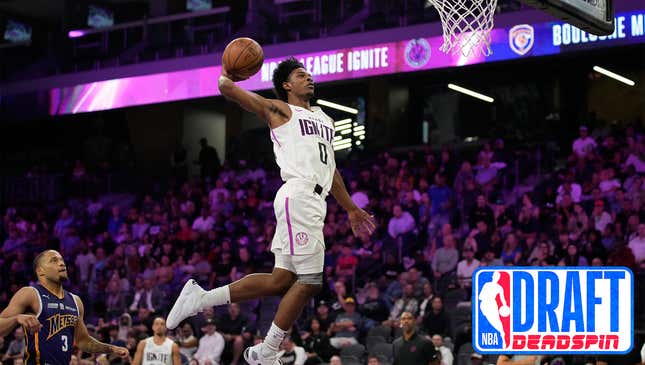 Many of the franchise-altering garden of forking path moments in NBA history began with contentious debates over the No.1 pick. In the rare situation where a phenom takes the reins, the second pick becomes the 2023 NBA Draft's initial pivot point. A month ago, the Charlotte Hornets were left crestfallen after the San Antonio Spurs machine emerged with the rights to draft Victor Wembanyama first overall. Despite the misery of missing out on another phenom, the Hornets can still carve out a contender. But first, they have to choose between a panoply of options.

Will the Charlotte Hornets pick Scoot Henderson or Brandon Miller? | Agree to Disagree
Will the Charlotte Hornets pick Scoot Henderson or Brandon Miller? | Agree to Disagree
Brandon Miller and Scoot Henderson are prime to join the lineage of draft axis points that will be litigated for decades to come. In 1984, Hakeem Olajuwon was the no-brainer No. 1 overall pick. Right behind them, the Blazers drafted 7-foot-1 Kentucky center Sam Bowie over Michael Jordan. The thinking was that Portland already had their aerodynamic 2-guard of the future in place. Their obsession with discovering the perfect fit saw them turn a blind eye to a big who'd lost two years to injury and was relatively unremarkable in comparison to M.J. A year earlier, the Blazers turned the 14th pick into Houston guard Clyde Drexler. As a prospect, Drexler was essentially Jordan if he'd come up short in the big moments throughout his collegiate career.

Rob Riggle, Amin Joseph, Joshua Malina and more share NBA Finals predictions
Nearly two decades later, the Detroit Pistons had a simpler choice to make between All-American national champion Carmelo Anthony or the mysterious Darko Miličić. Joe Dumars chose the mystery box taking Miličić to fill in their gap at center rather than pursue the luxury of a volume-scoring phenom in Melo. A few months later, Dumars acquired Rasheed Wallace at the trade deadline once it appeared Miličić was unready for the stage and the Pistons won the NBA title during Miličić's rookie season, but the No. 2 pick scored fewer than 50 total points all season.

Three years ago, the Hornets themselves benefited from the Warriors flubbing their No. 2 pick by siding with fit over talent, plugging Wiseman in at center instead of drafting the more tantalizing LaMelo Ball. Ball ran away with Rookie of the Year. Wiseman missed Golden State's entire postseason during their championship run last summer, and was traded for pennies on the dollar by Golden State whereas Ball earned an All-Star invitation during his sophomore campaign.

Danny Ainge was wise enough in 2018 to trade back from No. 1 for a prospect he loved in Jayson Tatum instead of feeling obligated to Boston's need for a bigger true point guard who could share ball-handling duties with Isaiah Thomas. The Celtics were more in love with Tatum than Lonzo Ball and Markelle Fultz even if he was a redundancy one year after they'd taken Jaylen Brown with their third pick. A few months later, Ainge cobbled together a deal for Kyrie Irving.

In Charlotte's circumstance, their franchise's latest nexus point will essentially whittle down to fit and need vs. talent. Neither Miller nor Henderson has the same red flags as Bowie or Miličić. Miller fits an immediate need as an elite scoring wing. However, the Hornets aren't on the '03 Pistons accelerated timeline. They can afford to invest in the best talent available without worrying about wasting a diminishing title window.

The more highly touted prospect is Henderson. In theory, Henderson and Ball can co-exist, but their heliocentric tendencies are less compatible than the natural fit of Ball and Miller. The best talent philosophy means drafting Henderson, but still opens up a world of possibilities. Let's say Henderson lives up to his reputation as an instrument of rim destruction right out of the gates, but fails to gel with Ball. Both players will still have trade value and Henderson's will be exponentially greater now that he's a tangible force instead of a theoretical playmaker.

There is a growing faction of Henderson evaluations that question whether he's a generational point guard or just the latest fad with elite physical tools. Critics of Henderson single out that he stands at "just" 6-foot-2, his spotty shooting as a dribble-drive point guard in the modern NBA and his efficiency as an iso playmaker, and his lack of proficiency as a pick-and-roll executive decision-maker. Those traits are nothing that can't be ironed out through trial-by-fire experience, a shooting coach, and an advanced point guard course taught in practices and games over the course of an 82-game season. Henderson's 6-foot-9 wingspan and running back's physique should mitigate any fretting over his size.

Miller operated as the No. 1 team in America's go-to scorer, but his imprint on the court was smaller than general wings before him. Meanwhile, Henderson went bucket for bucket with the presumptive No. 1 pick during the Vegas showcase for Victor Wembanyama.

Henderson and Miller are an odd fit, but their yin and yang imbalances work out. The Hornets' current cornerstone is a lankier, 6-foot-6 prospect with some wiggle off the dribble, isn't a great driver, and lags on defense as if he's running NBA2K on a poor WiFI connection. Yet Ball's vision bordering on precognition allows him to see the game three steps ahead offensively. Henderson has the tools to be a pesky defender and a hard-charging, brute-force finisher.

A year ago, Henderson would have been the de facto top prospect. This week, the Blazers, Hornets, and reportedly the Pelicans are hot on Henderson's trail with offers including Zion Williamson. The line for tailing Miller is markedly shorter. That says it all. Miller could be great, but he's a tier below Henderson. The Hornets remain so undecided between the pair that they invited Miller and Henderson back for a second round of workouts on Monday. Complicating matters is Miller's ongoing recovery from mono.

Whatever Charlotte does with the No. 2 pick will reverberate for generations. However, history shows that trusting the nonpareil prospect yields higher returns in the long run.

---
Follow DJ Dunson on Twitter: @cerebralsportex