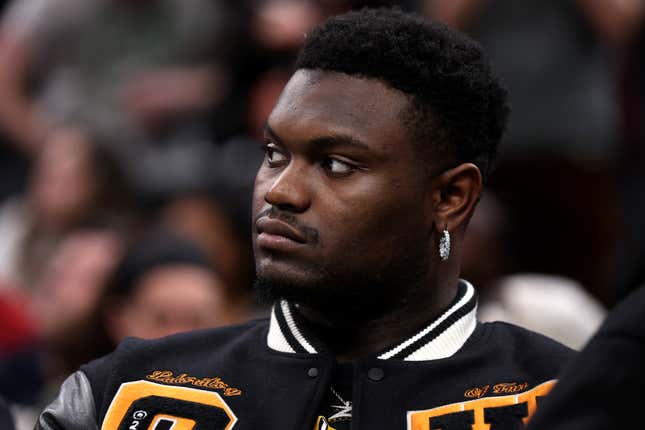 Zion Williamson undoubtedly had a rough Father's Day. For the past week his name has been dragged through as many trade rumors as Moriah Mills' direct message screenshot reservoir. The Portland Trail Blazers are genuinely interested in tempting the Bill Walton Curse by shoveling away their third overall pick to the New Orleans Pelicans for Williamson in a desperate bid to pair the oft-injured forward with Damian Lillard. The Hornets would also like to send their No. 2 pick to New Orleans so they can select Scoot Henderson.
Is Domantas Sabonis at fault for the Draymond stomp? | Agree to Disagree
Don't believe the hype
Everyone apparently has a Godfather offer for Williamson. It all feels too good to be true. There are a litany of appealing trades invoking Williamson's name floating around, but they mostly consist of aggregated Trade Machine rumors that sound like they were generated by AI from an augmented reality.The human reporting has been less reliable.
Either the countdown to the end of the Zion Williamson era in New Orleans snuck up on us quicker than the buzz from a whiskey shot or the NBA scuttlebutt mill is drunk again. This time, the entire bar is stumbling around whispering Williamson trade scenarios to one another. Sure Williamson has been an injury magnet whose body has betrayed him consistently, but he hasn't suffered any devastating injuries.
However, a year after he went into Adrian Monk mode positing theories on the Utah Jazz's movements, Brian Windhorst is using his credibility to raise alarms about Zion Williamson while dropping hints on his podcast about the paucity of a relationship between the Pelicans and their franchise player.
Will New Orleans make a trade?
"There is no relationship between Zion and the organization," Windhorst explained on his Hoop Collective podcast last week. "And minimal relationship between Zion and his teammates, from what I understand."
"Over the last three or four days, as I talk to more and more teams, I continue to hear more conversations that the Pelicans are having about [trading Williamson]."
Windhorst's negative forecasting doesn't provide any new tangible info on trade though and has been contradicted by fellow ESPN NBA insider Jonathan Givony,180-degree perspective on the Zion Williamson trade market.
"I've been told New Orleans is not trading Zion," Givony explained recently on Zach Lowe's Lowe Post podcast. "And no interest in trading Brandon Ingram. I would be very surprised if anything ended up happening there at two or three."
Givony throwing cold water on the hottest trade bonfire of the offseason is a buzzkill, but it's a much needed return to reality. Despite the fantastical possibilities a Zion Williamson trade could generate, New Orleans isn't stupid. Opposing front offices are offering up their first-born sons for a player with the strength of a defensive tackle and the vertical leap of an agile wing half his size and who hasn't even scratched his prime because they've seen how he can already impact the game.
When healthy, Williamson is a Baby Shaq-Larry Johnson hybrid who averaged 26 points, seven boards, dished out 4.6 helpers and 1.1 steals per game last season. He also doesn't turn 23 until July. If teams gave up on injury-prone players before their Jordan Years, Joel Embiid would have won MVP in something besides a Sixers uniform. Steph Curry wouldn't have won four titles in Golden State if they'd cut bait with him after an injury-plagued start to his career.
Williamson playing only 29 games in two seasons is concerning, but it's not the end of the world. When healthy, Williamson is one of the most hyper-efficient, high intensity playmakers in the league. Extrapolating his .615 effective field goal percentage to an entire season would have ranked 12th in The Association and third among players who averaged more than 15 points per contest.
Before Williamson's season came to an abrupt end in the first week of January, New Orleans was tied with Memphis for the second-best record in the West and a game behind Denver. New Orleans would be foolish not to give this iteration of the Pelicans a chance before pulling the plug. Imagine the Pels trading Williamson only to watch him garner All-NBA votes.
Will the Pelicans end up trading Williamson? Eventually, there's a strong chance they will — in 2024 or 2025 or 2030. After all, 99 percent of the league finds themselves on the same chopping block Chris Paul finds himself in after resuscitating the Suns. However, Williamson's time won't come this offseason.
Follow DJ Dunson on Twitter: @cerebralsportex