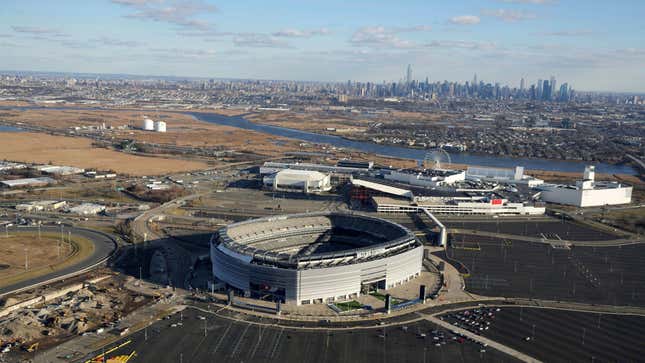 The states of New York and New Jersey launched a joint successful campaign to be a host city for the 2026 World Cup a while back. And yeah, of course the world's biggest individual sporting event couldn't have the most populous region of the country left out when the United States, Mexico, and Canada host in three summers. Hosting a final at MetLife Stadium? Yeah, that's a horrible idea for many reasons, despite the Times Square pleas from New York City mayor Eric Adams, who's done little to inspire confidence among his constituents recently, and New Jersey governor Phil Murphy, whose approval rating dipped below 50 percent despite living in one of the bluest states in America.
Pelé for a day, but paid more | Omari Hardwick's Ultimate Sports Fantasy
First, the densely populated areas of Manhattan and Brooklyn are far from East Rutherford, New Jersey, with no convenient way to get to the stadium. Sure, get there early and tailgate. But with horrible traffic and packing people into public transit like sardines will make the trek the most enjoyable experience, almost like watching England play in a World Cup. When you see it's nine miles on Google Maps from the Empire State Building to the home of Aaron Rodgers, you forget how awful driving in New York City is and how Jersey isn't any better. Unless you want to convert Citi Field or Yankee Stadium, and you don't, making people have the arduous trek out to a hellish part of the most densely populated state in the nation is cruel and unusual punishment, almost as bad as going to Qatar. 

NY/NJ's bid will be met by Dallas, LA, and other major cities
New York and New Jersey's bid to bring the biggest game in soccer will have huge challenges from Dallas, Los Angeles, Toronto, Mexico City, and Chicago, at least, with Hollywood likely having the best case to court the game away from the Big Apple's weird suburbs. The glitzy new SoFi Stadium in Inglewood isn't in the populated part of Los Angeles and the city's traffic has a worldwide reputation for being horrible, I get it. But at least you don't have to cross state lines to get to the home of the Rams and Chargers. And there are plenty of highways to get out of the more traffic-crazy part of the city. There's no avoiding that anywhere close to the home of the Jets and Giants.
Adams and Murphy's charge thinks it could put on a shindig that's the equivalent of "eight Super Bowls" for a World Cup Final. It hosted Seattle's shellacking of Denver in 2014, with Bruno Mars and the Red Hot Chili Peppers performing at halftime. The Jets have won exactly one Super Bowl in 1969 and the Giants have sucked for several years, but did win one as recently as 2012. So eight times the effort for Eli Manning to defeat Tom Brady? I know it's supposed to be overstated how bad you'd like the revenue to the area, but please fuck off. Eight Super Bowls makes you both sound as dumb as Chance The Rapper talking about hockey, as we know he's playing a character.

When the host cities for the 2026 World Cup were announced last year, FIFA president Gianni Infantino didn't give away any information as to how the selection process would work for which cities host what rounds. The Meadowlands hosted seven matches during the last men's World Cup to be hosted in America in 1994, as well as four during the 1999 women's World Cup, with both finals taking place at the Rose Bowl in Pasadena, California. What's closer to that historic venue, with an event like the World Cup that loves to shove its history down our throats, Los Angeles or New York? The Big Apple has the best bagels and pizza, but keep the World Cup Final far away.