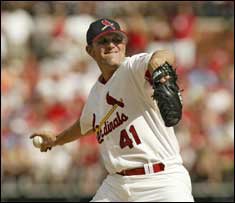 Few baseball fans hate quite as well as fans of the New York Mets. They do it with panache, style, pure vitriol and hard-won experience. Yankees and Red Sox fans are almost too hated themselves to hate with much authority, and other teams' fans are just too nice. (Exception: Phillies fans, whose blind rage all-too-often seems directed inward.)
Mets fan blogger Yankees 2000: Promote The Curse — of course that would be the title — has decided to initiate The John Rocker Award, which is awarded to the player most hated by Mets fans.
As you'd suspect, there's some Cardinals on there, like Yadier Molina, and the token Yankee is Johnny Damon, if just because you can't pick Jeter and A-Rod every year. But we think the pretty obvious winner has to be Braden Looper, who was horrific with the Mets and then, just to be a jerk about it, led the Cardinals' mock 'Jo-se, Jose-Jose-Jose' chant after the NLCS Game 7, which even we admit was probably uncalled for. We can't imagine Mets fans voting for anyone else.
The John Rocker Award [Yankees 2000: Promote The Curse]