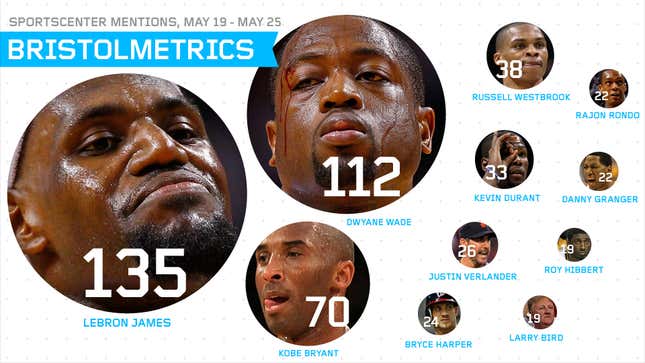 This is a regular feature breaking down, minute-by-minute, the content that appears on ESPN's 11 p.m. edition of SportsCenter throughout the week. Graphic by Jim Cooke.
How running an NFL team is like running a restaurant | Chef Emeril Lagasse
When last we met, Stephen A. Smith was invading SportsCenter, Bryce Harper has already become a superstar in the eyes of ESPN, and we got to see Chris Berman host the show (and do a pretty good job). What would this week bring?
Total time: 444.25 minutes
Time (minus commercials): 336.25
TIME DEVOTED TO INDIVIDUAL SPORTS
NBA: 171 minutes (50.9%) (last week: 27.7%)
MLB: 72 (21.4%) (last week: 32.1%)
SportsCenter staples (things like the "Top 10," "Encore," "What 2 Watch 4," etc.): 51 (15.2%) (last week: 16%)
NHL: 16.5 (4.9%) (last week: 11%)
Other sports: 10.5 (3.1%) (last week: 1.2%)
NFL: 9 (2.7%) (last week: 4%)
Golf: 2.75 (0.8%) (last week: 4%)
NASCAR: 2.75 (0.8%) (last week: 1.7%)
College football: 0.75 (.2%) (last week: 2.6%)
College basketball: 0 minutes (0%) (last week: 0.2%)
MOST-COVERED TEAMS BY SPORT
Miami Heat (NBA): 78.25 minutes (23.3%)
New York Rangers (NHL): 11.5 (3.4%)
Los Angeles Angels of Anaheim (MLB): 7.75 (2.3%)
New York Jets (NFL): 2.5 (0.7%)
West Virginia Mountaineers (college football) 0.75 (0.2%)
MOST-MENTIONED SPORTS FIGURES
Rather than break down the amount of time a specific athlete or figure was covered, we counted how frequently names were mentioned in the transcripts from the week. The 15 most-mentioned sports people for May 19-May 25:
LeBron James: 135
Dwyane Wade: 112
Kobe Bryant: 70
Russell Westbrook: 38
Kevin Durant: 33
Justin Verlander: 26
Bryce Harper: 24
Rajon Rondo: 22
Danny Granger: 22
Roy Hibbert: 19
Larry Bird: 19
Chris Bosh: 19
Lance Stephenson: 18
Henrik Lundqvist: 14
Andrew Bynum: 13
CUMULATIVE STATISTICS: JAN. 7-MAY 25
Total time: 8442.5 minutes
Time (minus commercials): 6349.5
NBA: 1,719.75 minutes (25.7%)
NFL: 1,093.5 (16.5%)
College basketball: 1035 (15.5%)
SportsCenter staples: 987.5 (14.8%)
MLB: 838.5 (12.5%)
Other: 501.25 (7.5%)
NHL: 362.5 (5.4%)
College football: 138.75 (2.1%)
Notes
Welcome to HeatCenter: If you tuned in to SportsCenter at all last week, there was a very good chance you saw Miami Heat highlights, or ESPN personalities talking over Miami Heat highlights, or press conferences involving Miami Heat players. Nearly a fourth of all programming was devoted to the Heat. Let's put it this way: ESPN spent more time airing Miami Heat press conferences (13 minutes) than it did talking about the NFL. This for a team that's going to get smoked in the finals by the Spurs (who by the way, got four minutes of coverage this week). Oh, and LeBron got more mentions on SportsCenter than all the members of the Pacers combined.
Stephen A. Smith's takeover of SportsCenter continues: Smith got a noticeable bump in SportsCenterairtime (9.75 minutes), thanks to the Heat and Lakers dominating the ESPN agenda. Away from the awful "debate"-centric morning programming, Smith is actually a halfway decent analyst who seems to have close connections with players on many teams.
The Champions League final was ignored: There was time enough for a three-and-a-half-minute montage of the crazy sports weekend in Los Angeles, two minutes of college lacrosse, and more than a minute of drag racing. Chelsea's thrilling comeback and shootout win over Bayern didn't garner a single mention. Should we mention here that the final was televised stateside on Fox?