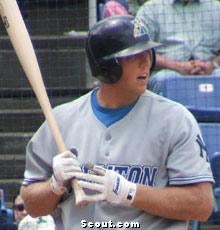 It happens all too often in sports; a youngster bursts onto the scene with a noteworthy accomplishment so quickly that even our best broadcasters and journalists have not had time to supply him with a ridiculous, hackneyed nickname, or overreaching home run call. From the New York Daily News:
John Sterling does not yet have a home run call for Shelley Duncan. I find that shocking. When Bobby Abreu became a Yankee, Sterling had the whole "sweet as candy" thing ready to go for his first homer. I'd like to think that Sterling is sitting at home at night with a pen and paper, trying to come up with the perfect call for Duncan, and just hasn't found it yet. So I have a few suggestions:
• Duncan lines!
• Shelley hits a monster homer!
• Turn on the telly and watch that kid Shelley!
• Shelley is better than Rocco Baldelli!
• Duncan hits a donut!
• It's a Shell game!
All of these make me ill. But then, I don't have to listen to John Sterling. Hey wait, here's one that I think I would enjoy:
• That one's way back ... let us all now observe a moment of silence for the pitcher.
Time To Get Shelley Duncan A Nickname [New York Daily News]