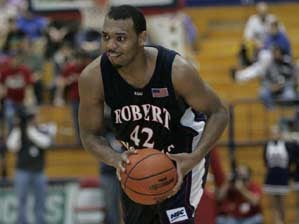 The College Basketball Closer is written by the gang at Storming the Floor.
Big players don't always come in big packages. And big events don't always attract the notice they deserve. A recent visit to the excellent Mid-Majority site turned up just such a player, who has accomplished just such a feat. Twice. Consecutively.

His name is Tony Lee, and he's a senior guard at Robert Morris University in the suburbs of Pittsburgh. Standing just about six feet tall in his sock-feet, Lee has made a habit of coming up big during the Colonials' recent nine-game win streak, which has them sharing the lead in the Northeast Conference. After flirting with the elusive collegiate triple-double in games at Florida International and Youngstown State, Lee went absolutely buck-wild in back-to-back conference games last week. He put up 13 points, 10 rebounds, and 11 assists to help beat Long Island on his home floor, then racked a nearly identical 12/10/10 on the road to take down Central Connecticut five days later. Even more surprisingly, he did it while playing less than 30 minutes in each game.
If Robert Morris manages to hold on and win the NEC tournament for the auto-bid this year, I highly recommend watching their first-round game.
Other triples this season:
Shawn James, Duquesne: 17 pts, 11 rebs, 10 blocks vs. St. Joe's. [Dukes Court]
Kenny George, UNC-Asheville: 20 pts, 12 rebs, 10 blocks @ Campbell [Yahoo Sports]
Boilermakers Could Use a Beer and a Shot. Indiana 77-Purdue 68. D.J. White spent a lot of time screaming at the ceiling after making tough buckets. The Hoosier powerhouse went for 19 points, 14 rebounds, and 2 blocks before fouling out. Robbie Hummell, on the other hand, came off the bench for 17 and didn't get to the free-throw line all night.
You Are No Longer With Me, Leather. Bradley 72-Drake 71. Drake has already clenched the top seed for Arch Madness, so I guess the only question that remains is - now that they've lost a couple, does Dolph Pulliam still have to wear that funktastic blue leather suit to every game?
Curry Favored. Davidson 75-UNC-Greensboro 66. An STF reader and Greensboro resident by the name of Rob sent me this fascinating fact via email: "With 100 for the season (ed: now up to 105), Stephen Curry has made more 3-pointers than nine Division I teams: Penn, Howard, San Jose State, Coppin State, Southern Utah, UC-Riverside, Dartmouth, Southern Miss, Ball State and Rice." Curry's unstoppable shooting also benefits teammate Jason Richards: the Wildcat point guard leads the nation with 8.1 assists per game.
Tonight's Big Game
The Top 25 isn't really giving us any meat tonight, as ranked teams are playing also-rans across the board. So I'm going deep for games that actually mean something.
Didn't We Almost Have It All? Houston (19-5) at UAB (17-8).Houston has made a habit of running up early leads on Memphis before folding in the second half, and UAB nearly derailed the perfect season just a few days ago. The battle for second place in C-USA is worth a mention, eh? Eh?
What, No Love For... Penn State @ Michigan State? Auburn @ Tennessee? Wisconsin @ Illinois? No. No love.
Eric Angevine writes about college basketball at Storming the Floor, and contributes to Chicago Sports Weekly and