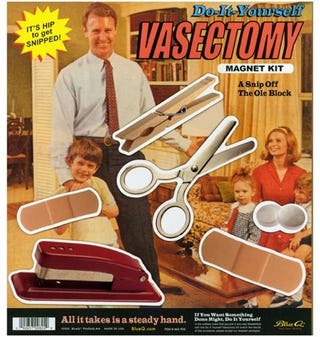 MVN Outsider points to a snippy (tee hee) promotion that ensures that if, you know, you're a fella who wants an excuse to watch the entire NCAA Tournament and also is interested in rendering himself sterile, you needn't wait until after the tourney.
"When March Madness approaches you need an excuse ... to stay at home in front of the big screen," the clinic's radio ad says. "Get your vasectomy at Oregon Urology Institute the day before the tournament starts. It's snip city."
Yes, snip city. Population: no one, because people aren't having babies. The clinic already has two dozen appointments set: a dozen the day before the tournament starts and a dozen the day before the second weekend.
I hope a lot of Duke alums take advantage of this offer. I don't care if they're probably 3,000 miles away from the clinic. They have money. Go!