It's hard to fathom that next month's Boston Marathon will mark the 40th anniversary of women being allowed to officially run in the race, since the idea of banning women from anything is so utterly stupid. However, the first woman to finish the race actually did so five years earlier in 1967. That was when 20-year-old Kathrine Switzer, a college student at Syracuse who'd only been in training for a year or so, decided to go rogue and run the 26.2 miles from Hopkinton to Copley Square against the wishes of race officials. But when Jock Semple, a surly Scottish émigré who was one of the two race directors, caught wind of Switzer's attempt, he tracked her down near the fourth mile marker and attempted to physically revoke her race bib. (The press photos, seen above, made headlines around the world.)
In 2002, Switzer went into great detail about the experience for the first time:
Four miles into the race, the media flatbed truck loaded with photographers came through and we all had to get out of the way to let it pass. A bus followed the truck with the journalists and on that bus were co-race directors Will Cloney and Jock Semple. The photographers saw me first and started shouting, 'There's a girl in the race,' and then slowed up in front of us and started taking pictures. By now, I'd thrown away my top sweatshirt and my hair was flying. I didn't try to disguise my gender at all. Heck, I was so proud of myself I was wearing lipstick! When the journalists saw me, they started teasing Jock that a girl had infiltrated his race. They looked up my number and saw K. Switzer and started heckling Jock some more. 'She doesn't look like a Karl,' they'd say. Their bus was still behind us. I was unaware what was going on behind me as we were waving at the photographers in front of us.

Jock was well known for his violent temper. He seethed for awhile, and then he erupted. He jumped off the bus and went after me. I saw him just before he pounced, and let me tell you, I was scared to death. He was out of control. I jumped away from him as he grabbed for me, but he caught me by the shoulder and spun me around, and screamed, 'Get the hell out of my race and give me that race number.' I tried to get away from him but he had me by the shirt. It was like being in a bad dream. Arnie tried to wrestle Jock away from me but was having a hard time himself and then Tom, my 235-pound boyfriend came to the rescue and smacked Jock with a cross body block and Jock went flying through the air. At first, I thought we had killed him. I was stunned and didn't know what to do, but then Arnie just looked at me and said, 'Run like hell,' and I did ...
She finished the race in an unofficial time of 4 hours, 20 minutes, and her 2009 autobiography adds a bit more to the whole tale. As for Semple's side of the story, Sports Illustrated caught up with him a year after the race and portrayed him, ultimately, as some sort of deranged, woman-hating Groundskeeper Willie:
"I'm not o'poozed t' women's athletics," says Jock, whose burr remains almost as thick as it was the day in 1923 when he left Clydebank for America. Indeed, he has donated trophies to women's races. "But we're taught t' respect laws-t' respect rules. The amateur rules here say a woman can't run more th'n a mile and a half. I'm in favor of makin' their races longer, but they doon't belong with men. They doon't belong runnin' with Jim Ryun. You wouldn't like to see a woman runnin' with Jim Ryun, wouldya?"
G/O Media may get a commission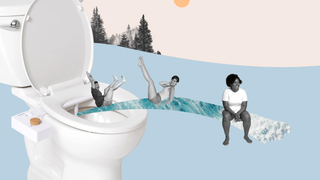 17% off
Tushy 3.0 Warm Water Spa Bidet Attachment
Five years later, enough o'poozition subsided and women were allowed t' run the race for real. Switzer eventually won the 1974 New York City Marathon in 3 hours, 7 minutes. Semple, who was also a physical therapist for the Bruins and Celtics for more than four decades, died in 1988.
[h/t Alex Leo]