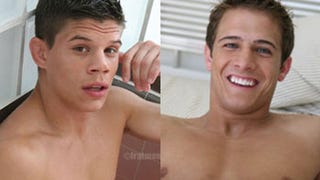 Just three days after their identities were unveiled in connection with a gay p0rn site, Nebraska wrestlers Paul Donahoe and Kenny Jordan were kicked off the team. Neither of the two men has made any comment on the incident, but Nebraska issued the usual statement about these men not reflecting the values of the team. More interesting? The owner of fratmentv.com sounded off to the AP.
John Marsh, who operates Fratmentv.com and two related Web sites catering to gay men, said he's spoken with Donahoe and Jordan and that both indicated they want to continue as college wrestlers. He said Donahoe was a "dynamite" wrestler. "If Nebraska is going to be pigheaded and kick him off unreasonably," Marsh said, "there has to be another wrestling program that's going to want him."
Assuming they transfer to another school, both men would have to sit out a year before they could continue their wrestling careers. Of course there also may be an NCAA investigation into these pictures since NCAA athletes are not allowed to be paid for their images. So there's a real question whether either man will be permitted to wrestle in NCAA-sponsored matches again. Marsh, for one, thinks Nebraska's response is indicative of a generational divide .
"I'm in my mid-40s, and my generation has a stigma about porn," he said. "The kids, the generation of the student-athletes, don't have that stigma. They really don't care. "They've come from a Paris Hilton, Tommy Lee-Pamela Anderson sex tape generation, Myspace pages," Marsh said. "The shame and stigma aren't there for them. They're mostly worried about what their parents are going to think, because their parents think it's horrifying."
If that's the case, shudder, we may be in for many more of these scandals in the near future. Nebraska wrestlers dismissed after posing nude [ESPN]