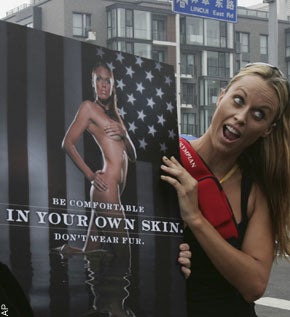 Just days after finding out Lindsay Lohan and apparently half the European runway model population would like to possibly make him their boyfriend, Michael Phelps earned a little lesson in humility this week thanks to oft-nude swimmer Amanda Beard. Beard, appearing on a radio show based in Phoneix, was asked point blank on the "Johnjay and Rich Show," whether she and Michael Phelps had ever dated. Beard exercised about as much restraint with her words as she does to keep her underwear on when there's a camera around. Her response:
"Eww, that's nasty."
Actually there's more:
"Come on, I have really good taste. He's really not my type."
Now, we're not sure exactly what part of Michael Phelps' "8-time gold medal Olympic champion" she finds "nasty" but that's her own personal opinion.Lucky for Phelps, he can now check one of the 9 million other desperate skanks out there off the list. Amanda Bear Denies Dating Michael Phelps [NY Post]