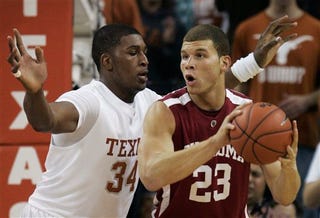 Last night the Oklahoma Sooners traveled to Texas to renew the Red River Rivalry with a number one ranking on the line, only to be rebuffed once again by the Longhorns.
National Player of the Year favorite Blake Griffin scored just two points in 11 minutes of floor time before being forced to the bench by an apparent concussion and his Sooner teammates were unable to hold off AJ Abrams (23 points) and his Texas teammates. Freshman sensation Willie Warren kept things interesting with 27 points and six assists but his Sooners came out on the wrong end of a 73-68 final score.
That should improve Gary's mood. Embattled Maryland coach Gary Williams got a much needed win over third ranked UNC thanks in large part to the efforts of Greivis Vasquez who electrified the College Park crowd with 35 points, 11 rebounds, and 10 assists. It was the first triple-double by a Terp since 1987, and it couldn't have come at a better time. At 17-9 Maryland needed a signature win to improve their tournament resume, and an 88-85 overtime thriller provided just that. Tyler "Beaker" Hansbrough scored just 11 points, the smallest output by any of the Tar Heel starters.
We'll take that top spot. Last night Pitt's DeJuan Blair capped off a spectacular week with 20 points and 18 rebounds in just 23 minutes against an over-matched Depaul squad. The Panthers all but assured themselves of the number one ranking with the 80-61 victory sandwiched in between losses by UNC and Oklahoma.