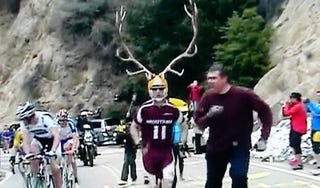 There are few things in nature more magnificent than this; it's the Tour Of California, where idiotic costumed cycling fans are half the fun. The inspiring true story of Antler Guy, following the jump.
As you saw on Sunday, Lance Armstrong had a run-in with The Yellow Devil, a fake syringe-toting fan who got a little too close (both metaphorically and physically) during stage 7. Armstrong shoved the portly Devil into a snow bank, but I wouldn't suggest the same tactic with Antler Guy, whose magnificent eight-point rack serves as nature's natural defense against performance-enhanced cyclists.
According to several message boards, Antler Guy has been a fixture along every stage of the Tour so far, running along with the cyclists on inclines, such as during Sunday's stage 8 at 5,123-foot Palomar Mountain near San Diego. I assume that he's somehow associated with the Tour's eventual winner, Levi Leipheimer, who is a native of Butte, Montana.
Nearly 3,000 spectators camped out on the mountain overnight — mimicking fans on L'Alpe d'Huez at the Tour de France — with many waiting for the brief chance to run alongside the cyclists for a few yards with the hope of getting on TV. Well, on Versus, anyway. Like these guys.
But Antler Guy is a different breed. Ed Rader took some photos of him last year which infinately better than the one I took from my TV screen yesterday. He also talked with Antler Guy and filed this report on the Canon Digital Photography Forum:
thanx guys! i talked to the antler guy and you have to remember the term fan is derived from fanatic!

i'm sure if he isn't on you tube he will be soon because he will be with the race all the way to pasadena.

this guy was an animal. you'll note he was wearing sidis with MTB cleats. you could hear the clack of metal like a steel shod clydesdale as he trotted up and down the hill, never busting a sweat.

the antlered one was warming up before the riders arrived and when they did he ran along with each lone rider, each grupetto offering words of encouragement and water.

all hail antler man!
Meanwhile, Yellow Devil got into it with a couple of cycling fans over on the Bicycle Blog message board, as he tried to explain his scuffle with Armstrong.
Yeah, that's called assault, and it's just another reason why I am completely over Lance Armstrong. The sooner he retires, the sooner we can get rid of the hordes of one-note fans who are screaming for lance while he's supporting his teammate. How many Armstrung-out fanatics even know the name Leipheimer?

I'm over it, and I hope someone kicks his ass if he races in France. — posted by Blogger yellodevil : 2/21/2009 11:32:00 AM
Yes, but can Lance do this? (from near the Stage 2 competition last week in Santa Cruz).
Update: Looks like Antler Guy sometimes doubles as Longhorn Dude.
Tour Of California ... Sierra Road [Canon Digital Photography Forum]
Advertise on NYTimes.com
Leipheimer Wins Third Consecutive Tour Of California [New York Times]