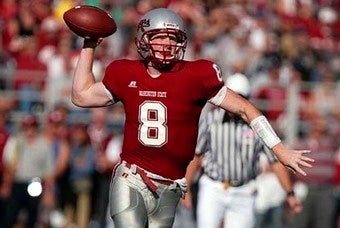 Marshall Lobbestael was arrested after being found in a car parked in front of the Pullman police station, "allegedly passed out with a grocery bag of vomit between his legs." But it's all a frame up, see!
The staff of Cougarfan.com know a ginned up charge when they see one. Their side of the story says that Lobbestael was not "passed out." He was merely sleeping in a car in a police parking lot at 1:00 a.m., which is totally non-suspicious behavior. Oh, and the bag was not filled with vomit—it was filled with leftover McDonald's food. (Although that would be an honest mistake.)
Lobbestael, who missed most of 2008 with a knee injury, was cited for being "a minor exhibiting the signs of having consumed alcohol," which may be the most ridiculous charge in the history of law enforcement when you consider that drinking a two-liter of Mountain Dew will have roughly the same physiological effects. Anyway, per team rules he has been suspended, even though his coach says all is not what it seems. I'm sure vindication will be forthcoming.
But you can't really dust for vomit, can you?
Discerning fact from fiction on Lobbestael [Cougar Fan.com]
WSU Blog: WSU QB Got A Raw Deal Getting Arrested [Hotdog & Friends]
WSU QB FOUND DRUNK AND PASSED OUT IN POLICE PARKING LOT WITH A BAG FULL OF PUKE [Graney and The Pig]