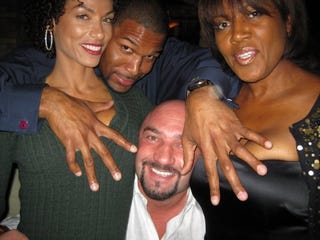 Here's an odd story from the New York Post, about former New York Giants defensive end Michael Strahan and his (ex) girlfriend, the pretty gal who used to be married to Eddie Murphy.
According to the Post, Strahan suspected the Murphy lady was stepping out on him so he went and installed one of those fancy tracking devices in her Range Rover to constantly monitor where she was going. The device was discovered by an auto mechanic during a routine check-up, and this apparently precipitated an ugly end to the relationship. And to think they looked so chummy last New Year's.
The Post also says this isn't the first time Strahan used this type of tactic to keep up on his women — his ex-wife alleged in their divorce suit that Strahan tapped her phone. But she's a little nutty, so who knows if that's true or not.
To make matters worse for Strahan, it appears the Murphy Lady was actually seeing someone else. Some hot-shot A & R executive with Universal named Demetrius Spencer. Don't be surprised if Spencer gets an unexpected visit from the Glaze-Dog in the next couple weeks.
(And, yes, there are a lot of boobs on the site today. I assure you this is purely coincidental.)
Michael Strahan Planted Spy Gizmo On Nicole Murphy [NY POST]