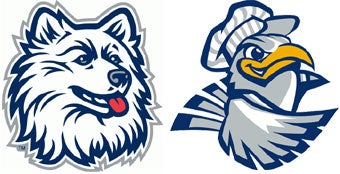 West Region: No. 1 Connecticut (27-4) vs. No. 16 UT-Chattanooga (18-16)
When: Thursday, 3:00 p.m., EDT
Where: Wachovia Center, Philadelphia, Pennsylvania

CONNECTICUT HUSKIES

1) Six Feet Under Coach Jim Calhoun created a media firestorm earlier this season when he told a freelance reporter who was questioning his high salary to "shut up" and then said he would "not [give] a dime back." Of course Calhoun wouldn't give his money back; he knows the value of a buck. Calhoun's father died when he was 15 and he dropped out of school to work at a variety of jobs including granite cutter, headstone engraver, scrapyard worker, shampoo factory worker, and gravedigger. I'd venture to say that no other NCAA basketball coach has ever been a gravedigger, but maybe I'm wrong. Temple's old coach, John Chaney, had a morbid look to him.
2) Thabeet Goes On Center Hasheem Thabeet has a 7-foot, 9-inch wingspan. Considering that he is 7-foot, 3-inches tall, that makes Thabeet significantly wider than he is tall. In case you were wondering, an average albatross has an 11.8-foot wingspan, so Thabeet still has some growing to do.
3) The Redemptive Power of Basketball Safe to say that guard A.J. Price didn't get off to a smooth start at UConn. Before he even arrived on campus, Price suffered a brain hemorrhage caused by a birth defect in his brain. He would miss his entire rookie season to deal with the condition. Then as a sophomore, police arrested Price and former teammate Marcus Williams for trying to sell stolen laptops, which were later found in Price's room. But Price has overcome the adversity and developed into the best guard in the Big East. Yeah, I said it. Check out this YouTube clip of Price breaking Jerel McNeal's ankles and tell me I'm wrong. — Jacob E. Osterhout (Storming The Floor/Examiner.com)
UNIVERSITY OF TENNESSEE AT CHATTANOOGA MOCS
1) What's in a name? The official name of the school is quite unwieldy, which probably explains why they are so fond of abbreviations. Generally referred to as UT-Chattanooga or just Chattanooga, locals simply call it UTC and sports fans root for the Mocs. Not the Moccasins. The name originally derived from the shoe, not the deadly pit viper, but concern over racial tolerance led to a change in mascots, from an anthropomorphized slipper (how did that work?) to "an anthropomorphized mockingbird named 'Scrappy' dressed as a railroad engineer." Obviously.
2) Not them again The Mocs have been to the NCAA tourney nine times before, but this is only their second appearance since 1997, the year they made it to the Sweet 16 by beating Georgia and Illinois. They met UConn in a 2/15 matchup in 1995 and ... let's see ... yes, they were trounced, 100-71.
3) Larry "Bud" Melman would be proud Jimmy Fallon—who apparently wandered into Conan O'Brien's old studio and was handed a TV show—has adopted Chattanooga, in the much the same way Deadspin adopts wayward cheerleaders. The Mocs have been featured this week as Late Night's favorite underdog, presumably in a cynical attempt to boost the show's ratings in several key southern counties. The school's pep band and cheer squad will appear on the show Wednesday evening, in what I'm sure will be a non-threatening, yet boyishly charming manner. — Dashiell
Join the Deadspin Pants Party Group Pool [ESPN]
Download the Deadspin Bracket [PDF or JPG]