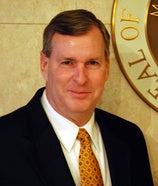 Here's one last feel good story from the Final Four. Indianapolis Mayor Greg Ballard was robbed on the streets of Detroit after leaving Ford Field on Saturday night. Perfect.
Ballard was walking back to his hotel after Saturday night's semi-final games at Ford Field when he stopped to assist a man who appeared to be suffering a seizure on a sidewalk. When the mayor stopped, two or three other men surrounded him and stole his cell phone from his pockets, the mayor's office said.
I suppose that's one way for tourists to contribute to the economy of Southeast Michigan. Not that anything like that would ever happen in Indy, where the Final Four will be next year.
Michigan State Police had issued a law enforcement warning in advance of the event that a nationally known group of professional pickpockets was expected to arrive for the event.
A nationally known group of professional pickpockets? Why does this sound like the pitch of a Nicholas Cage movie?
Indy mayor says he was victim of pickpockets at Final Four [Detroit News]
Detroit pickpockets grab Ballard's phoneIndianapolis Star [Indy Star]