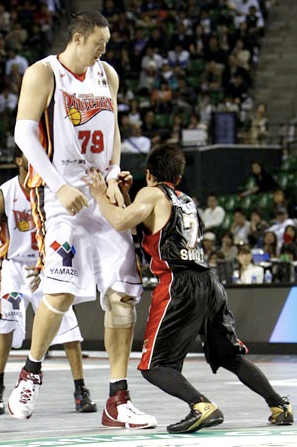 There's a new Asian monster stomping through the Japanese leagues and he is the tallest human being ever to play basketball. At 7'9", Sun MingMing is three inches taller than Yao Ming. (No relation.)
The AP did a healthy profile on him because he's big and he's fun to photograph towering over tiny six-footers forced to come face-to-face with his crotch in an attempt to avoid a screen. Currently, MingMing plays for the Hamamatsu Phoenix in a Japanese league, but he's still hopeful the NBA is in his future. The problem is, a one-legged George Murhesan could beat him up and down the court. He's working on it though. But for now, he can just stand in the paint playing giant and still be effective:
"It's surreal," says 6-foot-8 forward Lynn Washington, a two-time MVP in Japan. "You can't really do much because he's so big. He just holds the ball up in the air and it looks like a tennis ball."

China's Sun Shining In Japanese Basketball League [AP] (Via Big Picture)