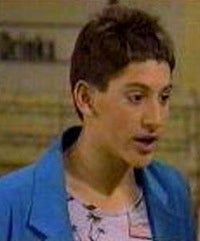 If you find yourself in and around Vancouver for tonight's epic US/Canada matchup, do be on the lookout for Mike Seaver's best bud. His friends and family are very worried.
Andrew Koenig, best known for playing Richard "Boner" Stabone on Growing Pains, missed a flight back from Vancouver on Feb. 16 and hasn't been seen since. Police have begun a search, and his family would love the help of anyone in the area.
He went up to [Vancouver] to visit friends who last saw him on the 14th," the actor's sister Danielle Koenig tells Zap2it. "Any information we can get on his whereabouts would be helpful."
The Olympics haven't been kind to Koenig. He was arrested in 2008 for protesting a Rose Parade float celebrating the Beijing games. One hopes that this latest disappearance is related to the can't-miss-ability of tonight's Miller/Brodeur showdown, and not something more serious.
Former 'Growing Pains' actor reported missing in Canada [Chicago Tribune]
•••••
Use the comments to discuss the game, or whatever fancy ice dancy NBC decided to put in HD instead. We'll see you tomorrow.