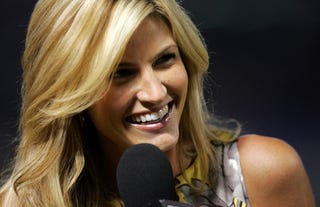 As we know, ESPN's Erin Andrews will be part of this year's Dancing With The Stars and, according to ESPN, her appearance on the show shouldn't interfere with her other WWL duties. However: no green room this year.
ESPN did not give any reason why Andrews won't be there to console Tim Tebow, but the WWL said she will finish out her sideline princessing for NCAA basketball games. In fact, Andrews brought her dancing partner, Maksim Chmerkovskiy, to last week's Duke-UNC game. ESPN also said Andrews will work the College World Series again, but it's unclear what else she'll be doing. (Her contract is up soon, btw.)
In other EA news: Andrews has taken flight on Twitter and posted a picture of her bruised hand, which she suffered while doing The Charleston or something.