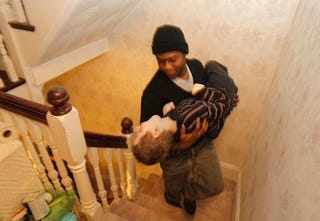 Consider this a palate cleanser to usher you into Christmas. It's the story of a high school football player, and the total stranger he tucks into bed every night.
Sammy Parker is 8 years old and has cerebral palsy. He can't talk or control his muscles. Until recently, his father Rick had to carry him upstairs to bed every night. Then Rick had an operation for his heart, and the Parkers needed help. Their doctor put them in touch with Malden (Mass.) Catholic School, where volunteering is emphasized to the kids.
Rudy Favard is 17, a linebacker and co-captain of Malden's football team. But his most important job isn't on the football field.
Four nights a week, he leaves his homework and makes the 10-minute drive to the Parker house. Around 8 p.m., he carries Sammy upstairs, chats a bit, hugs everybody, and heads home to finish his work. After considerable effort, the Parkers convinced Rudy to take enough money to cover gas, with a little left over.

In the few months the Parkers have known him, Rudy has become not just a help with Sammy, but a salve for their pain. He and Rick talk about football. Patty quizzes him on girls. Ben usually parks himself as close to Rudy as possible, looking up at him adoringly. And most nights, Sam will tremble with excitement as Rudy picks him up.

"It's like family,'' said the shy senior. It goes both ways: The Parkers were on the field with Rudy's mother the night Malden Catholic honored its senior football players.
Good on you, Rudy, and all the other athletes doing great things who rarely get the coverage they deserve.
A simple act elevates all [Boston Globe]
•••••
Thanks so much for spending part of your time with us. Have an excellent weekend.