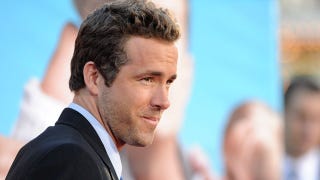 From today's Boston Herald gossip pages:
The B's and their posse—22 of them—were dining in Red Lantern, the Stanhope Street hot spot, just a little too close to the Canadian-born Sexiest Man Alive, who felt the need to stand up for his hometown heroes. There was some, um, chatting back and forth, which, we're told, resulted in RyReyn sending over 22 shots of tequila to the Black & Gold bunch. Quite sporting of him, but it didn't make up for the hit on Horton, if you ask us...

Oddly, the Stanley Cup champs refused the liquid olive branch and offered the tequila to a table of bachelorette party revelers...
In most other sports, we'd assume the athletes declined the drinks because they were training. But the Bruins? It's gotta be pure spite.
Of course, the real question persists: Is Ryan Reynolds a movie star?
Ryan Reynolds' best shots [Boston Herald]