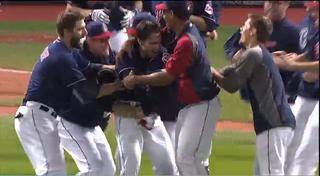 A few weeks ago, Lonnie Chisenhall hit a walk-off single to give the Cleveland Indians a ninth-inning win over the Detroit Tigers. His teammates thanked him by mobbing him and trying to put their fingers in his butt.
Yesterday, Jason Donald gave the Indians a victory in the bottom of the 12th inning when he ripped a walk-off single to left field. And how did his teammates respond? They went straight for the nut-grab! You can see for yourself at the 17 second mark of the video below:
Why do the Cleveland Indians insist on celebrating every walk-off victory with a series of forceful intrusions into the crotch and or ass of the night's hero? If you have any idea how the bad-touch celebration became a thing, please let us know in the discussion section.