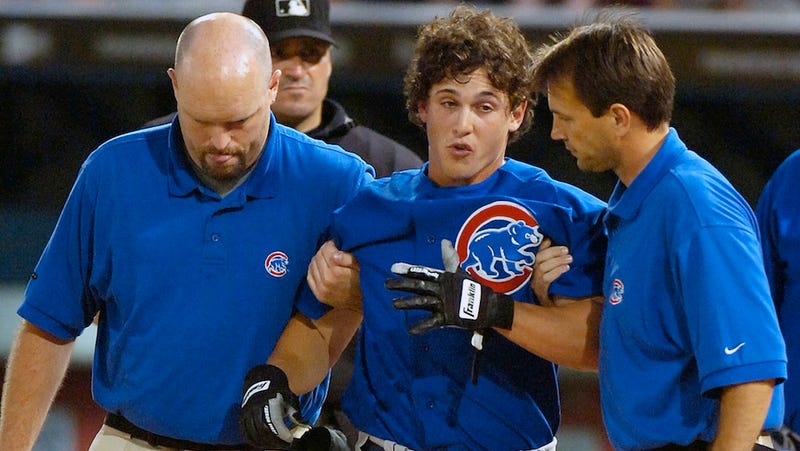 In 2005, Adam Greenberg was struck in the head with a fastball in his first major-league at-bat. He's spent the last seven years trying to get back to the majors. Last week, he signed a one-day contract with the Marlins and got his second career at-bat to a standing ovation in Miami last night. He struck out swinging against R.A. Dickey. The following profile of Greenberg is excerpted from Jewish Jocks: An Unorthodox Hall of Fame, available Oct. 30. Reprinted with permission of Twelve.
Adam Greenberg is what you might call a brutal optimist. When he sits across the table and tells his story, the words run so counter to his manner—the words are tragic, the rest of him immutably upbeat—that you feel a sort of vertigo. You start imagining that you could travel back in time and airdrop him into history's nastiest infernos—Dante's or Hitler's—just to watch him get up and grin and start plotting his escape.
"I mean, I don't want to say it, but my wife gets frustrated sometimes. My family gets frustrated. They're like, 'Life's not that good.' But what do you want me to do—be like everybody else, tell you how bad my life is, how shitty it is, how many things I don't have? Well, I don't live like that."
Here is the paradox: you have almost certainly not heard of Adam Greenberg. If you have heard of him, it's because of the tragedy that became the defining moment of his life. And yet Greenberg himself is not interested in being defined by his defining moment.
He grew up in Guilford, a classic Connecticut shore town that is less than a hundred miles from Manhattan but feels a few decades removed. His mom was a nurse, his dad the CFO of a women's apparel company. Adam was the second of five kids. He played baseball, basketball, and soccer. "Depending on the season, that was my favorite sport. When I was 13, I made the choice to play baseball full-time."
He maxed out at 5-foot-9, 180 pounds. But he hit the ball hard, played a vicious center field, and had speed to spare. His grades were good enough that Yale and Harvard wanted him, but he chose the University of North Carolina, because he wanted the best possible route to the majors. After his junior year—he hit .337 with 35 stolen bases and 17 home runs—the Chicago Cubs picked him in the ninth round of the 2002 draft. His signing bonus was $78,000.
There was of course no guarantee Greenberg would make it to the majors, but he had his believers. The American Jewish Historical Society added him to its set of Jewish baseball cards, right between Shawn Green and Hank Greenberg. He sometimes told people that Hank Greenberg was his grandfather—which was not a lie, for his grandfather was indeed named Hank, but he had been a photographer, not the great Jewish home run king.
In July 2005, after parts of four seasons in the minor leagues, Greenberg was called up by the Cubs. He flew to Miami for a series against the Marlins. He was 24. His family flew down too. Greenberg didn't play at all during his first game in a big-league uniform, and it looked like he wouldn't play in the second, either. But then in the ninth inning, manager Dusty Baker called for him to pinch-hit. The Marlins pitcher was a 32-year-old lefty named Valerio de los Santos. Greenberg readied himself for that priceless, irreproducible moment—his first major-league at-bat after 20 years' worth of lesser swings—but the pitch that de los Santos threw, a 91-mile-per-hour fastball, did not cooperate. It hit Greenberg squarely in the head. It caught a bit of helmet but mostly skull, just behind his right ear. The sound alone was grotesque. He crumpled to the dirt and grabbed the wound with both hands. He was certain his skull had split open and he wanted to hold it together so his brain didn't seep out. Stay alive, stay alive, stay alive, he told himself. He heard the catcher, Paul Lo Duca, tell him to stay down, that he'd be all right. Greenberg didn't believe him. The pain was cataclysmic. He heard the trainers hustle out and he heard them talking and then it was something he didn't hear that gave him hope. Nobody asked for a towel. If they hadn't asked for a towel, Greenberg reasoned, then he wasn't bleeding. If he wasn't bleeding, then his skull hadn't split open. And if his skull hadn't split open, then he might not die after all. He started to calm down. He felt a little better. Finally, he sat up. OK, this doesn't feel good, but I'm alive. I'm OK. He felt himself being helped to his feet. Already his thought of death was gone. It had been replaced by shame. This is dumb. This is embarrassing. My first major-league at-bat and I have to be helped off the field.
He recovered so quickly that he hung out with his family that night and didn't even go to the hospital until morning. An MRI found nothing. But during that afternoon's game, sitting in the Cubs dugout, he felt drowsy. He couldn't believe he'd finally been called up to the majors and now he had to take a nap in the locker room while the game was played without him.
He had blistering headaches and vertigo; his vision was warped. The Cubs ultimately sent him back to the minors. The following season he moved on to the Dodgers organization, and later the Royals, Angels, and Reds. He felt constantly on the verge of climbing that mystical ladder back up to the majors, but it didn't happen. By 2008, he had landed with the Bridgeport Bluefish, a pro team not far from his Connecticut hometown. They play in the unaffiliated Atlantic League, which is not where big-league teams go fishing.
That's where I first encountered Greenberg, in Bridgeport. He was extraordinarily fun to watch. He batted with ferocity, a coiled-up lefty leadoff hitter slapping line drives into the gap and running the bases as if running away from a bad dream. In center field he was always alert, feet always in motion, chasing down every ball. When the Bluefish held a fan appreciation day, Greenberg was the one player my kids were excited to meet. By now they knew his story, too: one at-bat in the majors, hit in the head, never even took the field. Oh, and also: someone who had once sat through Hebrew School, just like them. He was as friendly as could be but also focused elsewhere, eager to get the game started. Eager to get back to the big leagues.
It doesn't look like it will happen. Greenberg will certainly not say this aloud—his brutal optimism forbids it—but he's north of 30, still 5-foot-9, and has spent the past five seasons in out-of-the-way Bridgeport. The good news is that he has started up a business that he's ridiculously excited about—so excited that he wakes up at 3:30 every morning to close the day with his West Coast partner—and its roots go back to that tragic night in Miami.
His recovery was long and brutal. "I was in a very, very dark place, just depressed," he says. Greenberg reached out to a doctor he'd met in spring training a few years earlier, "a little Jewish guy with a schleppy beard" named Michael Lebowitz, a chiropractor who dabbled in naturopathy. Lebowitz inventoried Greenberg's physical, emotional, and nutritional condition and prescribed an overhaul—a new diet, new routines, and a variety of natural supplements. Greenberg started feeling much better. In time, he came to think of Lebowitz as a miracle worker.
So when Lebowitz told him about an ancient Chinese remedy called lu rong—deer antler velvet—that seemed to help nearly everyone who took it, Greenberg trusted him. He was blown away by the pill's anti-inflammatory effects: his joints and muscles felt better, he recovered faster from workouts, he had more energy and stamina. He started talking it up to his family, friends, fellow ballplayers, even the Bluefish team doctor. Greenberg recruited partners, built a network, put the pill into the hands of every athlete and doctor he could find. They called the company LuRong Living. "It's not a scam," he insists. "It's not a scheme. The product works."
He will still play baseball as long as his body allows, but he knows that business is his future. His father, Mark, who still works in women's apparel, moonlights as LuRong's CFO.
And what are the company's chances of success? "One hundred percent." And then, as if to justify this claim, Greenberg explains himself, eyes bright and voice quavering with enthusiasm:
"I look at my story"—his tragic, one-pitch major-league career—"as a part of this. No matter how bad you're going, or how bad life is, there's something good around the corner and you just have to keep pushing for it. Part of Jewish culture is perseverance. I think that's inherently in all of us as a Jew—you get knocked down, you get up. You get knocked down, you get up. You keep pushing, keep pushing."
Stephen J. Dubner is the coauthor of Freakonomics and SuperFreakonomics. He is currently the host of Freakonomics Radio. Excerpted from Jewish Jocks: An Unorthodox Hall of Fame, edited by Franklin Foer and Marc Tracy. Reprinted with permission of Twelve.