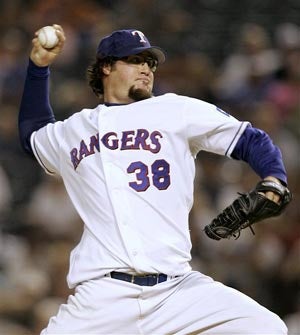 It is perhaps baseball's misfortune to, on the one day a year everyone looks for baseball trades, have its thunder stolen by an NBA trade, but then again, no one's been waiting six years to see where Joel Pineiro would finally be traded.
Anyway, here's a rundown of the trades that did happen.
• Yep, the Red Sox now have Eric Gagne. It seems strange he hasn't pitched for the Red Sox or Yankees before, doesn't it?
• The Phillies got another wife beater to hang out with Brett Myers.
• The Royals sent Octavio Dotel to the Braves for Kyle Davies. This should make the Royals bullpen even more fun to watch.
• The Cardinals have Pineiro. Joy.
• The Yankees now have Wilson Betemit, and only gave up that Proctor fellow.
A few may trickle through as the night goes along, but those are the "big" ones. And we're gonna go back to talking about Kevin Garnett now.
By the way, Tom Glavine's going for his 300th win tonight. We hope he's not taking a cab to the game.