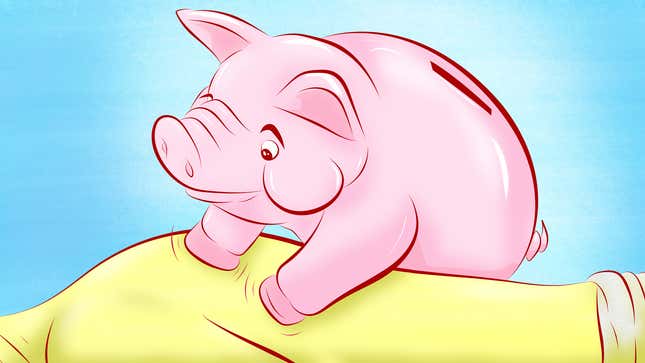 Nothing makes you feel the wretched tick of time quite like back problems. This isn't an issue I've had formally diagnosed or treated by a real chiropractor. I know that I should. It's the result of me feeling constant soreness in my lower back and deducing that my muscles are, basically, defective. Anyone who glances over at me in my office at any point in a given day will likely spot me contorting in my seat, attempting some sort of stretch to ease the effects of a lifetime of slouching. The inevitable misery of a writer.

Aaron Rodgers should go full Joe Namath | Comedian Bert Kreischer
This particular aching, which started a few years ago, partly inspired me to seek out yoga. Though twisting my body like a sponge turned out to be a blessing, whenever I'd go weeks without stretching, my perpetually dissatisfied back muscles would fall out of whack.
"OPEN YOUR HEART!" is what my yoga teacher loves yelling in my ear, whenever my alignment is off. What I take it to mean is that I need to chill. In yoga terms it suggests stretching wider, though the phrase clearly goes much deeper. About a year ago, after I told her about my bothersome back, she told me to go to "one of those Chinese spots," referring to the small hole-in-the-wall places in Chinatown, and recommended her favorite. They'd fix me up for cheap, she said. For as great as yoga is, it's designed to push your muscles. Occasional "body work," she told me, would help stretch them out.
I silently rebuffed. The elitist in me wanted the fancy mirage of a so-called professional instead of an aging parlor—after all, part of the beauty of a massage is the feeling of pampered bliss. Plus, I already had a spot in mind—a spa in Park Slope, the lap of domesticity in Brooklyn—that I'd gone to for occasional facials. For the past two years, I visited around my birthday as a gift to self, and it seemed like I'd waited way too long to experience a good massage.
My first-ever professional one—i.e., one longer than the 10-minute joints at the local nail salon—came in January 2011, when I visited the gorgeous island of Vieques, off Puerto Rico. I was there courtesy of W Hotel, on a press trip filled with firsts: My first solo bike ride on an empty road lined with grazing horses. My first time kayaking in a bio-luminescent bay at night. My first massage in a villa. I don't want to exaggerate—it was just a massage. But coming from an immigrant family accustomed to taking showers with a bucket of water, and even with a somewhat middle class American upbringing, those luxuries still felt foreign.
I remember warning the masseuse I was ticklish. Not even halfway through, he informed me of my problem area. "Your shoulders are so stiff," he said. Laying on my stomach half-naked in paradise, I thought about the time I've spent trying to loosen them up. I've never been good at being loose, though. Being closed off always felt safer. Admittedly, my posture is dreadful, mostly my shoulders, which droop like willow trees by default. I have to work to actively push them back and stand straight. Seeing photos of my slouching make me grimace.
Some time later, during one rapturous Park Slope massage session, the technician climbed halfway onto my back and used her upper body to apply pressure. This was soothing in a life-changing way. Strangely (or maybe not so strange), my mind inevitably drifted and tied the moment of release to my life, and my failure to open up. That rejuvenating hour of pampering ran me over $100 each time—a 60-minute deep tissue for $95, plus tip. Still, I figured it was worth it, in moderation, to ease my aches.
With my back issues resurfacing around the holidays (when food and family time supplanted chaturangas), I made a personal pact to commit to consistent massage therapy; maybe every two months or so I'd follow Retta and Tom's creed and treat myself. Since I don't go to church or see a therapist regularly, yoga became my sanctuary. Massages, too—at the risk of sounding pretentiously Zen—are legitimately therapeutic for the body and mind. One good session costs around what I'd pay for a month of yoga classes, which run up to $80.
If I was going to do this regularly, Park Slope wasn't an option financially. While the pricy places are credible, I was really paying for pomp and ambiance. I revisited trying "one of those Chinese spots" out of desperation.
Sometime in January, a Jezebel staffer recommended cheap spots in Soho for banging out body work. I mentally bookmarked it and, after much procrastination, finally visited a few weeks later, after an especially bothersome day of sitting wreaked havoc.
My eyes—no lie—started watering when the receptionist told me they were booked for the night. Pathetically, I asked, "Are there any other places around here?" And then muttered, "I really need this," feeling incredibly bougie. My back was throwing a tantrum. I couldn't walk away without giving it the love it was screaming for. Brief exploration led me to a spot down the block where two Asian women were sitting by a window talking. It was the tiniest massage parlor, advertising a $40 service for 60 minutes. From outside, I could see it was far from fancy. No serene deep-relaxation music playing or tranquil waterfall stones. Barely any privacy. Just two massage tables separated by a curtain, with necessary oils readily available, and a small bathroom adjacent.
Laying face down, with my head in a hole papered for sanitary protection, I wondered if this transaction was ill-advised. The curtain was left open. I didn't bother asking them to close it. And the other woman kept passing by, continuing her conversation with my masseuse in their language. Mentally, I drifted off, feeling fingers, hands, palms and forearms zero in on my trouble areas instinctually. Heavenly circular motions and pressurized pokes. She stretched out my tightness and eased the pangs of poor posture. Just 10 minutes in, I upped the service from an hour to 90 minutes. This ran me a little extra, still much cheaper than the pricey Park Slope den of serenity.
Getting any type of massage treatment still feels like a bougie expense. But it's also a deeply soothing one. I can sit in a chair in peace now, at least until my back once again starts spazzing. Maybe that's worth the waste.

---
Clover Hope is a staff writer for Jezebel, you can contact her at clover@jezebel.com.
Illustration by Sam Woolley.