From now until the end of the season, we'll be posting a number of clips from the previous weekend's English Premier League games. If there's a goal, save, dive, lip-read profanity, or hocked sputum we should know about, drop us a line at tips@deadspin.com. (You might also enjoy our better-late-than-never EPL guide)
Juan Mata mata la pelota (Chelsea 3, Manchester United 3)
On Sunday, a couple of big-name teams played a regular season game with the usual stakes. Manchester United was trying to keep pace with Manchester City at the top of the table, and Chelsea was fighting to hang on to fourth place and the last Champions League spot. It was the best match-up of the weekend. Barely.
But the "Greatest Live Premier League Match In US Television History," as Fox would have us believe? Bah. Liverpool versus United, featuring the awkward Luis Suarez/Patrice Evra reunion, this Saturday morning on ESPN is more compelling, as were any number of the hundreds of live matches ESPN has broadcast in the past three years.
This was Fox's second stab at televising live EPL matches and it took place on Super Bowl Sunday, which partially explains the overselling. (Another explanation is that it's Fox.) But can anyone explain Fox's continued and idiotic need to inject American football into the soccer discussion? In Sir Alex Ferguson's pre-match interview, he was asked what he'd learned from Vince Lombardi. Not from the man himself. From the time he saw the play "Lombardi" on Broadway. You're reaching, Fox. What's next? Howie Long saving a Terry Bradshaw penalty?
G/O Media may get a commission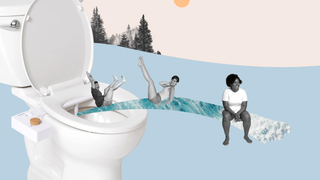 17% off
Tushy 3.0 Warm Water Spa Bidet Attachment
Fox wants to appeal to the broadest possible swath of Sunday morning viewers, but it annoys the fuck out of those of us who, you know, set aside time to enjoy soccer. Look, I'm glad a major network is airing the EPL (or the BPL, as Fox inexplicably insists on abbreviating it). It's a huge step in the right direction. But Fox keeps tripping over its own boots. Rob Stone calls Tottenham Hotspur "The Tottenham Hotspurs." Piers Morgan's jowls continue to flap on my TV screen. Hyperbole rains down as NFL music blares.
Mercifully, Fox again switched to the English feed once the game started. Smart move. Except Fox missed the first five seconds of the game. Not that anything happens in the first five seconds of the game, but if you're going to take the time to punish viewers with enough computer-generated explosions to induce seizures, you should at least be able to press a button at the right time.
In the end, the game was good. Just good. Not great. United's second half comeback from three-nil down was thrilling, but sloppy. Four of the six goals were rubbish. Only Juan Mata's strike at the start of the second half approached the sublime, as the Spaniard connected perfectly on a cross from Fernando Torres. Yet the Fox analysts universally deemed the match an instant classic. Rob Stone's first words from the post-game studio: "Dear Super Bowl, top that."
No, Rob Stone. No. I can watch soccer in the morning and the Super Bowl at night and enjoy each of them, separately. And I will always enjoy seeing Piers Morgan's jowls proved wrong, as they were in injury time, when United keeper David de Gea, whom the jowls had referred to during their pre-game flap as "the worst goalkeeper in the EPL," turned aside a superbly struck free kick by Mata in injury time. This might be the save of the year, and it saved United's comeback:
Carlos Tevez would rather golf than play for the best team in the EPL (Manchester City 3, Fulham 0)
An Argentinian striker made a lovely run through a Mancunian blizzard on Saturday, leaving tracks in the snow and Fulham defenders in his wake, to set up the third goal in Manchester City's lopsided victory. That striker was not Carlos Tevez, but rather Sergio Aguero, whose more famous (and more expensive) countryman was home in Argentina, playing golf in the sun. Tevez went AWOL from City in September, when he refused to go on as a substitute in the Champions League. Since then, he's been in self-imposed exile on a back nine in Buenos Aires.
A goal-scoring machine when he wants to be, Tevez has only appeared in two EPL games this year and probably won't be suiting up for more anytime soon. He recently told German soccer magazine Kicker that he's happy "to settle for playing golf." (He later denied talking to the magazine.) To date, Tevez owes his team $15 million in fines, making him more of an ATM machine at present.
Meanwhile, Manchester City have been in first place since October, Sergio Aguero has 14 goals, and David Silva might be the best player in blue, even if Tevez were actually on the team. The top Argentinian in the world not named Messi looks more extraneous by the day. Nevertheless, manager Roberto Mancini has penciled Tevez into the 25-man lineup for the remainder of the season, which makes Mancini either very hopeful or very passive aggressive.
Cissé disembarks plane, commences scoring (Newcastle United 2, Aston Villa 1)
Recent Newcastle signing Papiss Demba Cissé, just back from the African Cup of Nations, scored a beautiful volley in his debut for the Magpies. As for the rest of the hot stove action before the January transfer window closed? Pretty boring. Move along, please.
I can haz football? (Liverpool 0, Tottenham Hotspur 0, Felis Catus 1)
Like we weren't going to show you this again. By far the most exciting and most adorable thing that happened in Monday's nil-nil snooze-fest. You've got to appreciate Ian Darke's call:
People pay thousands of dollars to see "Cats."... Now, any fan did that would be thrown out the ground. He'll probably be given a nice saucer full of milk.